Exhibition collaboration for Sussex MA students
Posted on behalf of: School of Media, Arts and Humanities
Last updated: Monday, 28 June 2021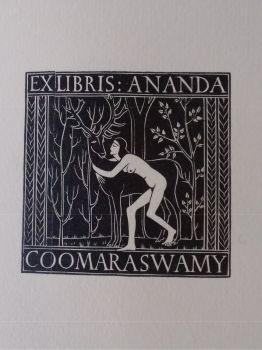 University of Sussex students completing an MA in Art History and Museum Curating have collaborated with Ditchling Museum of Art + Craft to celebrate a pioneering historian and philosopher of South Asian art in dialogue.
The Forgotten Influencer: Ananda Coomaraswamy is Ditchling Museum of Art + Craft's first online exhibition. It showcases the broad sphere of influence that Ananda Coomaraswamy (1877-1947) had over artists associated with Ditchling. Often overlooked within wider narratives of Western modernism, Coomaraswamy's significance lay within his desire to introduce South Asian art and craft to the West and reframe dominant visions of this art as worthy of more than just archeological and anthropological study. Most notably, these ideas were communicated via his important collection of essays within The Dance of Shiva (1932).
The Forgotten Influencer will feature work made by early British Modernists Eric Gill, Ethel Mairet and Jacob Epstein, who were receptive to, and inspired by, Coomaraswamy's teachings about South Asian art. This presence of South Asian aesthetics within British art and craft will be traced up to today through a contemporary lens, exploring the work of British craftworkers and designers with South Asian ancestral roots, and showcase how their work and practice is rooted in understandings and conceptions of their own heritage and identity.
By comparing these contemporary works against art made by associated Ditchling artists who were not of South Asian heritage themselves, The Forgotten Influencer will seek to address and draw attention to topical debates surrounding cultural appropriation and cultural appreciation.
The Forgotten Influencer is a collaboration between Ditchling Museum of Art + Craft and MA Art History and Museum Curating students from the University of Sussex. The students have been working with the Ditchling team to co-curate the project as part of their course, and this is their first exhibition.
The exhibition can be viewed on the Ditchling Museum of Art + Craft website from Monday 28 June 2021.