Calling all Sussex parents
By: Tom Walters
Last updated: Wednesday, 16 June 2021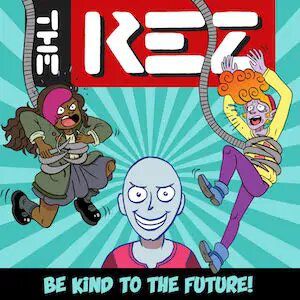 The University of Sussex is working alongside Make (Good) Trouble and the Arts Council on an exciting new project called The REZ – a new Sci-Fi Comic, podcast and website for 7 – 11 year olds.
Created by UK Comic Laureate, Hannah Berry, alongside a team of writers and psychologists, it contains pro-social and emotional well-being messaging about friendships and kindness.
With adolescent mental health taking centre stage over the past few months, the project is designed to help young people prepare to negotiate emotional difficulties and stresses, which they might face in young adulthood.
To mark this, the team have put together a fun, interactive and creative afternoon to discover what your children think of The REZ so they can continue to help support young people's mental health.
Taking place on Saturday afternoon between 1.30pm - 4.30pm at the Yellowave Beach Sports Venue, Madeira Drive, Brighton, the afternoon will be spent playing some games about kindness, listening to episodes of The REZ and also having a silent disco.
The team will be conducting audio interviews with the children (in groups or one their own, whatever they are comfortable with) as well as taking photographs of the children enjoying The REZ which may be used for research and promotion.
Further information for parents:
Interviews with the children - Lucy Roberts is a Research Fellow at the University of Sussex in the School of Psychology. She is part of a team which is very interested in children's social and emotional learning. Part of her job is to get out and talk to children and young people to understand what they think about various things that researchers are doing. It's called 'qualitative data collection' when researchers get people together in focus groups to talk about a particular topic or experience.
The aims and objective of the research - Your child's input, along with that of other children and young people, will help the researchers at the University of Sussex to understand how children are learning from children's audiobooks. Some key areas of interest are: What is it about the audiobook that captured and maintained children's attention? Do children remember what they listened to? In what ways does the comic and game contribute to listening to the audiobook? Children's views on these will help researchers understand how audiobooks may be used effectively in the classroom and how audiobooks can be made available to a larger and more diverse audience.
How the data will be used - Researchers at the University of Sussex will transcribe and thematically analyse audio data from children taking part. It will be fully anonymised at the point of transcription, and that there will be no way for any child to be identified in any written analysis. The anonymised data may be used to prepare a report and/or article for publication about issues raised during the interviews.
If you have a child aged between 7 – 11 and are interested in attending please contact Jane Keating on jane@makegoodtrouble.co.uk, or Martin Spinelli on m.j.spinelli@gmail.com (or 07758014302).