This Sussex Life. Professor Mary Agnes Krell: "Coming to Sussex was the best decision I ever made."
By: Jacqui Bealing
Last updated: Wednesday, 9 June 2021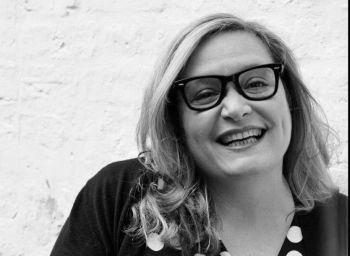 Mary Agnes Krell, Professor of Creative Media and artistic director of the University's first Festival of Ideas, talks about how Sussex continues to inspire her.
Pulling together the Festival of Ideas has been a highlight in this challenging year because it's helped us get to know people in our new School of Media, Arts and Humanities while we've all been working remotely. It's also allowed us to see the incredibly wide range of work that we do. Holding a festival is the best way for us to understand each other's work, and for those outside of the School to see it and engage with it too.
There are two events that are of particular interest to me.The first is Cultural Sector after Covid panel, which sees people from the University and the wider cultural community get together to talk about what the future holds and how we can actively and meaningfully participate in shaping that. I am personally really interested in the Creative Practice Symposium, which has been organised by Jason Price, who is also the Head of Drama. He has looked across the School and is asking questions and teasing out affinities, both critical and creative, on how we work.
I'm also excited about our keynote speakers - our Head of School Kate O'Riordan, whose vision for the future of the humanities is genuinely interesting, and Rebecca Omonira-Oyekanmi, because her work as a journalist is really compelling. She has a Stuart Hall Foundation fellowship at Sussex, which is fantastic and we, as a university, need to make more of it.
One of the things I love about Sussex is that its lectures are open. When I discovered the Professorial Lectures, I started going to them and they in some part have inspired what we're doing with this festival. They create a space for people to talk openly, but to a wide and largely public audience about their work, and not just about their work, but about what inspires them.
I grew up in southern California and studied in Seattle. I originally trained in directing for stage and film. While doing my postgraduate studies, I came to London for two summers and volunteered at the London International Festival Theatre. I was introduced to Tim Etchells, the director of Forced Entertainment, and we got on really well. At that point in the early 90s, he and I were both interested in what the emerging new space of the Internet meant to live performance.
I went back to Seattle to graduate and worked in the dotcom industry for a company called Saltmine. Our clients included Microsoft and we worked on one of the first Pokemon digital games, as well as with bands and community groups. But I returned during holidays to work with Forced Entertainment. We built a number of interactive projects that merged Quicktime VR or early photoreal VR technologies with theatre and performance narratives. They were shown really widely around the world and the last of them, Night Walks, received the Transmedia award at the Berlin Film Festival in 2000.
Prior to the dotcom bubble bursting in 2000, I had a funny feeling that something wasn't right. The dotcom culture felt unreal, it couldn't sustain itself. I had been doing occasional drop-in teaching at one of the local art colleges, so I left my commercial job to work in higher education. When the post came up at Sussex in interactive media design, I thought I'd give it a go. I arrived at Sussex 20 years ago with no preconceived notions of what the university was about, but the people and the students I met on the day of the interview were fantastic and campus was beautiful. I was offered the job that evening and I have just never looked back.
Coming to Sussex was the best decision I ever made. I still love it as a place to work, and as a community, and as a culture. I have never felt that way about a job for such a sustained period. It's to do with people being receptive to or interested in work outside of their field. Sussex inspires people to be open to views beyond their own. This might be just to do with the campus design, but it might also be to do with the history of the institution.
There is also a level of collegiality here that seems sincere between people at different levels and different places in their careers. I've experienced places in academia where people don't get along and those grievances can kind of last for a long time. I felt really welcomed by people at all levels, and I have always felt like our Professional Services team are on the same playing field as the academics, which is good. Those boundaries were blurred from the beginning for me.
Outside of my day job I organise the Grand Northern Ukulele Festival. When I was growing up, the ukulele was the instrument we learned in school. When I moved to the UK, I struggled to make friends outside of work, so I went along to a ukulele group in Brighton. I just felt I could make a space for myself by playing the instrument terribly and singing out of tune. When I was recovering from a significant illness, my husband and some friends and I started the festival up in the North, which is where we're based, although I have a flat in Brighton.
I wanted to create a festival for people to come along to and take part in and feel like they were part of a community rather than simply watching virtuosos perform to them. We held the first one just over eight years ago and now I've started to talk about the festival in academic spaces. There's a whole area of research around the idea of festival cultures.
The way of running festivals now has had to change so rapidly because of the pandemic. But virtual festivals are just as valid as live festivals, and, as with the world of education, I think this change is permanent. These virtual spaces offer the opportunity for people to engage right across the world and also from a load of different spaces. A lot of people who might never be able to physically make it to these events can now do so.
Our goal with the Sussex Festival of Ideas is to upload as many of the 38 events as possible after the festival. Many more people engage in the days and weeks after festivals – and that suggests to me that people find this information inspirational and useful. My hope is that the festival becomes annual and that the whole of the University will take part in it eventually. We're already talking about next year's festival and plugging it into events for the University's 60th anniversary celebrations.
This profile is part of our This Sussex Life series.