Stingray Bio launched from University of Sussex to find new medicines for breast and other cancers
By: Neil Vowles
Last updated: Tuesday, 23 March 2021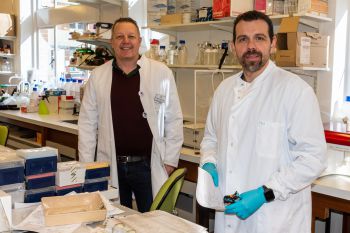 Despite tremendous advances over the last decade, breast cancer remains the most common cancer affecting women globally, while recurrent resistance to existing therapies remains a major challenge. Leading cancer researchers at the University of Sussex have worked to launch Stingray Bio, an independent spin-out company that builds on university science to develop new therapies for breast cancers and potentially other cancer types.
Professor Georgios Giamas from the University's School of Life Sciences has discovered key defects in advanced breast cancers and shown how these molecular characteristics can be targeted by novel medicines. Research conducted in Giamas' laboratory during the last decade, mainly funded by Action Against Cancer, has identified a protein called "LMTK3" which is particularly persistent in a number of cancers, and in particular breast cancer.
Working from this finding, Professors Giamas and John Spencer created early drug-like molecules that suppress LMTK3. In laboratory studies, LMTK3 inhibition causes breast cancer cells to stop growing and die, and diseased tissue shrinks following LMTK3 drug treatment.
To further develop LMTK3 medicines for eventual use by cancer patients, Professors Giamas and Spencer were supported by the University's Innovation & Business Partnerships team and the University's business incubator Sussex Innovation to launch Stingray Bio.
This new biotech company has attracted seed funding support from the UK-based venture capital firm o2h Ventures. The new investment will be used to create more advanced drugs targeting LMTK3 and the company will then take those new medicines through testing required to begin human trials.
Professors Giamas and Spencer will collaborate with and advise Stingray Bio, to understand exactly which type of breast cancer patients to treat and if LMTK3 medicines might be useful for other types of cancer.
While clinical testing in cancer patients may be several years ahead, Stingray Bio is committed to finding the best opportunity to transform the University's investment in research towards new breakthroughs in patient treatment. The company plans to expand its research and development to collaborate with experts and business partners across the globe, while keeping a local company headquarters and board direction including the University and academic founders. Working closely from its roots in academic excellence, Stingray Bio seeks to deliver new, effective treatments to those suffering from breast cancer and similar diseases.
Sunil Shah, Co-Founder and Managing Partner of o2h Ventures, said: "We are delighted to be working with the University of Sussex and the founders to launch and grow Stingray Bio. We have been following the science for several years and we are now excited to support the commercialisation of the founder's research to develop new drugs for cancer."
Sue Baxter, Director of Innovation and Business Partnerships at the University of Sussex, said: "We are very excited to see Stingray Bio launch and attract new investment. Leveraging years of R&D support by the University of Sussex, the company demonstrates our commitment to translating ground-breaking research into valuable new businesses that will benefit the world and rebuild our regional economy."
Peter Lane, Innovation Support Manager at Sussex Innovation, said: "It's been tremendously rewarding to have worked closely with the University's Innovation and Business Partnerships team and help broker this new relationship. Stingray Bio is a perfect example of the kind of enterprise we love to support, evolving a commercial model with the potential to deliver huge real-world impact from emerging research. We look forward to watching the rest of their journey as it develops from here."
Georgios Giamas, Professor of Cancer Cell Signalling and Head of Department for Biochemistry and Biomedicine at the University of Sussex, said: "By founding and building Stingray Bio alongside my colleague Professor John Spencer, we have taken a critical next step towards exploiting our new discoveries in LMTK3 kinase signalling for the benefit of cancer patients.
"I look forward to supporting Stingray Bio as its Chief Scientific Advisor and Director, and anticipate the day when medicines targeting LMTK3 will be used to fight cancer and promote good health."