Sussex appoints its first Director of Communications, Marketing and Advancement
By: Charlie Littlejones
Last updated: Thursday, 25 February 2021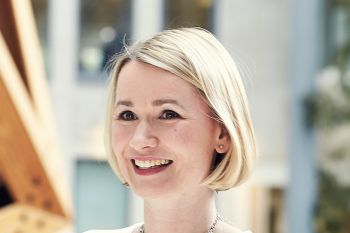 One of government's most experienced directors of communication, Emily Tofield, has been appointed as the University's first Director of Communications, Marketing and Advancement. Emily will join Sussex from the Ministry of Justice (MoJ), where she has been the Group Director of Communications and Information Services, as well as overseeing the Government Communication Service's successful design, branding and animation agency Design102, since 2016.
In the newly created role, Emily will lead the recently merged External Relations and Student Recruitment, Admissions and International Development divisions, that includes the Attenborough Centre for the Creative Arts. The division will be known as Communications, Marketing and Advancement. The term Advancement whilst new to Sussex is well established within the global higher education sector. It incorporates all of the University's highly regarded functions that recruit Sussex students from the UK and around the world and forge a long-lasting relationship with them beyond graduation.
Through internal collaboration with Schools, Divisions and external partners, the division will continue to drive engagement with stakeholders and audiences inside and outside of the institution, as well as the local community, the arts, business, partners and government.
Tim Westlake, Chief Operating Officer, said: "This is a crucial appointment for the University at a time when our positive engagement within the University and the outside world has never been more pivotal.
"Emily's role will span the four pillars of Sussex 2025, as we move into an important phase of realising our vision and her experience in leading transformation programmes in complex sectors and organisations will be of great value to Sussex. She has a vast record of accomplishment in engaging audiences, creating high impact campaigns covering recruitment, awareness raising and behavioural change.
"Like the University, she is driven by a desire to make a positive difference to society. She has a wealth of experience directing multi-audience communications, marketing and recruitment strategies in global markets and through Emily's leadership, we plan to take our ambition to create a better university for a better world to the next level."
Emily joined the MoJ, having previously led the communications functions in both the Department for Environment, Food & Rural Affairs (Defra) and The Cabinet Office. In her most recent role at the MoJ she has been responsible for a multi award-winning communications directorate, serving one of the government's biggest operational delivery departments, with around 75,000 staff across the country. She has overseen and created from scratch a number of successful domestic and international campaigns, which have resonated with the public, boosted growth and helped to change lives. She is also the founder and director of the department's first international marketing campaign, Legal Services are GREAT, which promotes the UK's valuable legal services sector and has grown to have a brand presence in more than 30 countries.
She is a crisis communications expert, having devised and led the cross-systems communications response to COVID-19 across large parts of the justice system and also specialises in high-volume, data driven and creative recruitment campaigns, which have been recognised for their impact by industry organisations both here and abroad, including the award-winning Prison Officer Recruitment campaign. Since 2017, Emily has also been a regular member of the Government Communication Service (GCS) Ministerial Board and she recently led a review of public sector recruitment.
Emily Tofield said: "I firmly believe in Sussex's vision to create a University that is driven by progressive education and research. I am looking forward to working with colleagues to engage audiences both at home and around the world with our story and values, helping to deliver the ambitious 2025 strategy.
"I have been privileged to work in three very different Whitehall departments, where our campaigns – both internal and external - have been about making a difference, using the power of communications to help change lives for the better. In all my roles, we have tried to challenge convention, whether it is how we have structured our teams or our work. Sussex has built its impressive reputation on daring to be different and that is something hugely motivating for me. By using the collective skill and expertise of everyone in this new division and across the university we will help create a new Sussex story for these extraordinary times, ensuring the university is not just part of, but continues to lead a global movement for change."
Emily began her career as an ITN news trainee before joining the BBC in 2002, where she was a Producer and Senior Producer on several of the organisation's major news programmes, including the News at Ten and The Andrew Marr Show. During her time at the BBC, she also worked as the Arts & Culture Producer for BBC News, producing arts coverage in the UK and around the world for BBC television and radio news outlets, as well as producing and directing several arts documentaries for the BBC News Channel.
She left the BBC in 2009 to join the Cabinet Office where she rose from Chief Press Officer to Head of Communications and Ministerial Press Secretary. In 2014, she became the Cross-Government Head of Media Relations, before moving to Defra as their Group Director of Communications.
Emily is currently a Board Trustee of the Further Education Trust for Leadership (FETL), an independent further education think tank.
The University has appointed Emily following a competitive recruitment process, and she will take up her new role in the spring. She will report to Chief Operating Officer, Tim Westlake and sit on both the University Leadership Team (ULT) and the Professional Services Leadership Team (PSLT).
In the interim, Marcus Williams will continue to lead the merged Communications, Marketing and Advancement division. He will then report to Emily and continue to deliver the University's recruitment, admissions and international development strategies.