Sussex academic comments on Jharkhand Assembly resolution on new religion code for tribals
By: Ian Tout
Last updated: Wednesday, 6 January 2021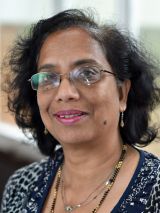 In the December 2020 edition of 'Down to Earth', Professor Vinita Damodaran was included amongst a range of experts on Adivasi culture commenting on the recent resolution passed by the Jharkhand Assembly, asking for a separate religion code for tribals.
On November 11, the Jharkhand State Assembly, in a special session sent a resolution to the Union government asking for a separate religion code for the tribal population in the upcoming Census 2021 exercise. The resolution named it 'Sarna Adivasi Dharam'.
Followers of 'Sarna' are usually nature worshippers. They have been demanding recognition of it as a distinct religion for decades. At present, under the census, there are codes for only six religions: Hinduism, Islam, Christianity, Sikhism, Buddhism and Jainism. While filling in these columns, a tribal resident has to identify himself or herself as one of these or as 'others', but cannot specify his / her religion as a different one.
In census surveys during 1871-1951, there was a separate category for the tribal population. But later, this was dropped. In independent India, the tribal identity has been about constitutional provisions promising to protect their rights and central laws promising to protect their land. Although recognised as an administrative and social category — Scheduled Tribes — these communities have never been recognised as a separate religious group.
For the Census 2011, the National Commission for Scheduled Tribes did recommend the addition of this code. Demand for the separate religion code picked up in Jharkhand as preparations for the survey started in September.
Till now, the Union government has not agreed to this. But while debating the resolution, state Chief Minister Hemant Soren said the Sarna Dharam can teach a lot to the world facing problems, such as pollution and environmental degradation, as it is all about worshipping nature, forests, and mountains.
The resolution has resurrected the debate over whether tribal religion is a distinct ecological way of life or just a belief system. It is often argued that tribal religious belief is an ecological expression of their existence that maintains an intimate relationship with nature.
This is the reason, in April 2013, the Supreme Court ordered gram sabhas (village councils) to hold referendums on whether a mining project of the Vedanta Group in the Niyamgiri hill region of Odisha's Rayagada and Kalahandi districts violated the religious and cultural rights of the local tribal populations. Ultimately, 12 villages rejected the mining project, citing violation of their religious and cultural rights that have an umbilical link to natural resources.
'Down to Earth' is a fortnightly magazine focused on politics of environment and development, published in New Delhi, India