"There can be no better way to support a community that did so much for all of us when we were there."
By: Emma Wigmore
Last updated: Wednesday, 3 February 2021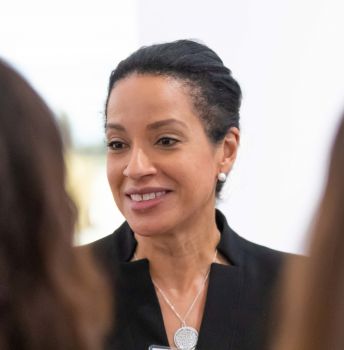 Tosin Akinluyi (Economics 1996) talks about her long-term support of the Emily O Akinluyi Scholarship and about volunteering at Sussex.
I chose to study at Sussex because it offered the best course and the campus was absolutely beautiful. I wanted to study Development Economics at postgraduate level and Sussex is known worldwide for its excellence in the subject. My older brother had studied at Sussex too and I had often visited him on campus. It was such a warm community. He still has friends from his student days. They're like family.
Through many years' involvement in graduate recruitment, I realised that the applicant pool was not 50% female for careers in technology, engineering, finance and the like. I saw that women were being biased away from these careers for several reasons: they felt these careers were unattainable; they didn't see others like themselves within those sectors, in terms of being female and/or ethnic minorities; they were making decisions in a vacuum, being influenced by other people's comments; or the courses and qualifications were not financially accessible to them. That was the genesis of the Emily O Akinluyi Scholarship, over 10 years ago.
I wanted to establish a scholarship to support female students from more challenging socio-economic backgrounds who are studying science, mathematics or business degrees. I knew that as government funding reduced over time and tuition fees were introduced, there were going to be even greater issues in terms of accessibility to higher education. My hope is that the Scholarship keeps options open. That it helps women achieve their dreams and their potential.
The Scholarship is named after my paternal grandmother because she was a strong, formidable woman. She raised nine children and she was essentially the breadwinner – my grandfather was an Anglican Archdeacon. She was a businesswoman, she was driven, she had a heart of gold, she was humble and she was a woman of faith. It is an honour to name the Scholarship after her.
It's a wonderful feeling helping people achieve their potential – people who might never have gone to university otherwise. I'm also aware of how much more could be done. There should be many more scholarships. People don't realise that the smallest amount of money helps. They just don't understand what a difference it makes to a student. I have met amazing, inspiring women who were recipients of the scholarship I set up, and they are now accomplishing so much and already giving back or "paying it forward".
As well as supporting scholarships and giving back financially, there are many other ways that alumni can contribute to the Sussex community. My older brother and I serve on the Advisory Board of Sussex Business School – we're both passionate about it. I've also judged student competitions and given careers talks. I feel that there's so much more to give back to Sussex and that it's important to give back on a sustained basis.
I'd encourage all alumni to engage with the Development and Alumni Relations Office and to explore giving back to Sussex. There can be no better way to support a community that did so much for all of us when we were there. It's a lasting legacy.
If you're interested in supporting Sussex, please contact Emma Wigmore in the Development and Alumni Relations Office at e.wigmore@sussex.ac.uk or on +44(0)1273 877707.