Professor Vinita Damodoran interviewed for Práticas da História
Posted on behalf of: School of Media, Arts and Humanities
Last updated: Wednesday, 17 February 2021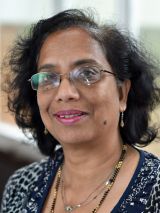 With an academic career spanning over two decades, most of which has been spent at the University of Sussex, Vinita Damodaran is a historian of modern India and a leading name in the field of Environmental History. In October 2019, Vinita was the keynote speaker at a workshop on Poverty and Hunger in Colonial Contexts, organised at the Portuguese National Library, where she delivered a lecture on "Climate signals, famine and livelihoods in India in the eighteenth and nineteenth centuries". During her stay in Lisbon, she enthusiastically accepted to be interviewed for Práticas da História. In this interview, she discussed her career, the development of Environmental History as a discipline, the challenges it faces today and the relationship between academic work and environmental activism.
Read the interview using the following link:
http://www.praticasdahistoria.pt/issues/2020/10/10_PDH10_Damodaran.pdf
Vinita Damodaran. "History, Activism and the Environment." Interview by Bárbara Direito and José Miguel Ferreira. Práticas da História, Journal on Theory, Historiography and Uses of the Past, n.º 10 (2020): 269-285.