National award recognises MFM's commitment to gender equality
Posted on behalf of: University of Sussex
Last updated: Thursday, 15 October 2020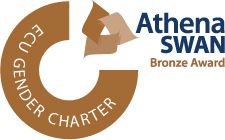 The former School of Media, Film and Music (MFM) at the University of Sussex has been recognised for its ongoing commitment to gender equality, with the accolade of an Athena SWAN bronze award.
MFM's bronze award – which will be valid for five years, until 2025 – acknowledges the School's work to address unequal gender representation and the barriers to progression for women.
Feedback on the School's submission highlighted as good practice the rotation of senior roles to support staff promotion (as promotion criteria include undertaking management and administrative roles).
The MFM Self-Assessment Team were Dr Emile Devereaux, Dr Beatrice Fazi, Sarah Green, Professor Margaretta Jolly and Professor Sue Thornham.
They said: "This Athena SWAN award is a great result for the School of Media, Film and Music (MFM) and a significant recognition of MFM's commitment to promote and support gender equality.
"The award also comes at an important time: as MFM is now part of the new School of Media, Arts and Humanities at Sussex, this Athena SWAN award will help us to build on best practice and keep equalities at the heart of these new institutional structures."
Miguel Maravall, chair of the institutional Sussex SAT, said: "Applications to Athena SWAN awards are a reflection of lots of work and thought put into addressing gender inequality.
"Importantly, they are also a call to action and a signal of our commitment to hold ourselves to the standard of our aspirations as an inclusive university.
"This award is a really well-deserved recognition of our colleagues' ongoing initiatives in MFM and across the newly merged School of Media, Arts and Humanities. I would like to thank everyone involved."
Sharon Neal, Assistant Director of Culture and Inclusion in Human Resources, added: "Gender equality in higher education is about removing the obstacles faced by women, in particular, at major points of career development and progression, to create a fully inclusive university.
"For us Athena SWAN is an important part of the solution to addressing gender inequality at Sussex. It fits with our commitments to promote an inclusive culture and to close the gender pay gap.
"This latest application really was a team effort and I would like to congratulate the former School of Media, Film and Music, who made a really positive commitment to supporting gender equality through a number of initiatives.
"We also continue to make significant developments through our gender equality action plan, which brings together all of the institutional-level actions and initiatives to promote gender equality and reduce the gender pay gap at Sussex."
All of the STEMM (Science, Technology, Engineering, Medicine and Mathematics) schools at Sussex currently have at least a bronze award.
Since the Athena SWAN scheme – now run by Advance HE – was expanded to include non-STEMM disciplines, several other schools have been preparing for future submissions.
Sussex currently holds an institution-wide bronze award.
If you'd like to leave a comment, enter your ITS username, password, and your comment. The comment may need approval before it is displayed, so don't expect your comment to appear right away.
By submitting a comment you are agreeing to the Acceptable Use Policy.