Professor picks up prestigious teaching fellowship
By: James Hakner
Last updated: Friday, 1 October 2010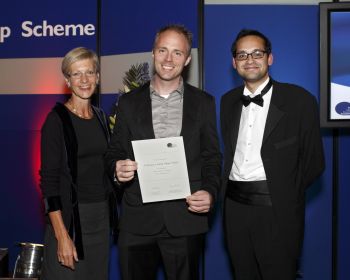 Professor Andy Field (Psychology) received a prestigious National Teaching Fellowship at a ceremony in London this week (29 September).
Andy, one of 50 UK academics to pick up the award this year, was commended for his ground-breaking and dedicated work teaching statistics.
The National Teaching Fellowship Scheme (NTFS), which is celebrating its 10th year, recognises and rewards individual excellence in teaching in higher education.
Competition is fierce for the £10,000 award, organised by the Higher Education Academy (HEA) and funded by the Higher Education Funding Council for England (HEFCE).
Speaking at the event, Professor Craig Mahoney, Chief Executive of the HEA, said: "I have a lifelong passion for teaching in higher education, and it is fantastic to be among so many people who also care about excellent teaching."
Statistics is often taught passively through equations and dry examples, but not in Andy's lectures -where student participation, physical demonstrations, real data and fun prevail.
His aim over the last 15 years has been to make statistics less scary using humour and lively examples, maintaining: "Teaching statistics through examples and analogies to which students actively relate enables them to anchor statistical ideas to their own experiences and develop their own conceptual sense of what they have been taught."
He says he has spent his teaching career "trying to break down the barrier of anxiety to empower students to learn statistics" and to gain confidence.
Andy's passion is clear not only in his face-to-face teaching, but also through his revolutionary textbook, Discovering Statistics Using SPSS, and on his 'Statistics Hell' website.
'Statistics Hell' reaches out to students far beyond the University and highlights his commitment to supporting the diversity of learning needs by catering for students who may not be able to attend classes because of disability; the materials he provides online also enable dyslexic students to work at the same level as their peers.
The website has led to Andy answering email requests for help from students around the world. This generosity extends to the international community of statistics educators, as he provides teaching resources that others can use on 'Statistics Hell' and on the website that accompanies his book. Testimonies to Andy's empathy and ability to explain complex ideas in a clear and concise way have poured in.
He is not without plaudits at Sussex, having won a Sussex Teaching Award in 2001 and being voted Best Lecturer in the last two year's graduation yearbooks.
There has also been national recognition from the British Psychological Society (BPS), which gave Andy an Award for Excellence in the Teaching of Psychology in 2005 and presented him with the society's annual Book Award in 2007.
Andy is the fifth National Teaching Fellow at Sussex - joining Dr Celia Hunt (Continuing Education), Duncan Mackrill (Education), Catherine Reynolds (Careers and Employability) and Professor Imogen Taylor (Social Work).
In addition to the work he already does with the HEA Psychology Network, Andy will now become a member of the Association of National Teaching Fellows (ANTF), which facilitates networking among Fellows and promotes innovative practice.