Experts call for Bradwell B consultation to be scrapped until Government justifies biased attachment to nuclear
By: Neil Vowles
Last updated: Tuesday, 14 July 2020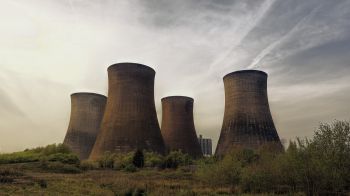 A public consultation on plans for the UK's newest nuclear power station is deeply flawed and should be suspended, according to two leading energy policy experts.
Professor Andrew Sti​rling and Dr Philip Johnstone say the consultation into Bradwell B is invalid because the UK government has repeatedly failed to make the case for nuclear in the face of its ever-rising costs, slow lead times and poor value-for-money comparison to renewables.
The academics at the world-renowned Science Policy Research Unit (SPRU) at the University of Sussex Business School have criticised the restrictive nature of the consultation's scope which they argue excludes crucial underlying questions over the rationale for building more nuclear power stations in the UK.
Prof Stirling and Dr Johnstone say the consultation should resume only when the government publish a long-promised rigorous justification for nuclear power compared to other low carbon energy sources – something they argue it has failed to do for the past 17 years.
Dr Johnstone, Research Fellow in SPRU at the University of Sussex Business School, said: "The last full UK Energy White Paper not successfully challenged by judicial review was published in 2003 and even then found that nuclear power presents an unattractive option for the UK. Since then, global trends in rising costs and deteriorating performance on the part of nuclear power, and steeply growing relative competitiveness and viable resources on the part of renewable energy, grid management and energy storage have strongly underscored the seriously unfavourable picture for nuclear."
Prof Stirling, Professor of Science and Technology Policy in SPRU at the University of Sussex Business School, said: "It is indefensible that the remit for this consultation excludes the possibility of questioning the strategic case for nuclear power when compared with other low carbon energy options. The justification given for this exclusion is that the issues are adequately dealt with by national policymaking processes. But this is manifestly false. Key official bodies like the National Audit Office and the House of Commons Public Accounts Committee have each gone out of their way strongly to criticise the government for failing for so long, to publish duly rigorous justification for nuclear policy."
In their detailed evidence to the consultation, the academics document a global move away from nuclear power because of worsening comparative cost, resource, employment and strategic disadvantages. They point to countries like Germany, with far larger and more successful nuclear engineering industries, which are undertaking complete nuclear phase-outs.
With steeply dropping costs for energy storage and grid management already far smaller than the price gap between nuclear and renewables, Prof Stirling and Dr Johnstone say there can no longer be reasonable doubt that a fully renewable energy future is now more viable than nuclear new-build.
Prof Stirling and Dr Johnstone argue that the case for a nuclear phase-out is even stronger in the UK because it lacks internationally leading nuclear equipment vendors but does have especially large and competitive renewable resources. Relying on French, Japanese or Chinese expertise to deliver on nuclear projects also creates strategic foreign policy problems, the academics argue.
The experts also explain that pursuing a cheap, diverse, secure, zero carbon renewables-based energy system capable of meeting all emerging needs would also be a better option for employment opportunities as the UK renewable sector already creates more jobs than those associated with nuclear. Renewable export markets are already significantly larger than those for nuclear equipment and growing fast while nuclear declines.
Dr Johnstone said: "The unwillingness of the government to present a rigorous justification of its' energy policy or to have an honest discussion about all available options appears largely to be driven by the underlying motive of offloading onto electricity consumers, the costs of military nuclear capabilities. Without consumer-funded civilian nuclear infrastructures effectively funnelling many tens of billions of pounds into the national military nuclear industrial base , the costs of maintaining this are recognised to be beyond the reach of an already hard-pressed defence budget."
Prof Stirling said: "The exclusion of these issues from the consultation remit reflects a serious military-driven bias in UK government attachments to nuclear power. This is not only making carbon emissions reductions slower and more expensive, but also impeding possibilities for the UK post-COVID economic recovery to benefit from major opportunities in world renewable markets. This is a problem not just for nuclear policy, but raises serious questions over the rigour and quality of UK energy strategies and the health of British democracy."