Want, want, want: How Boris Johnson's choice of language failed to bring the UK together
By: Neil Vowles
Last updated: Friday, 10 July 2020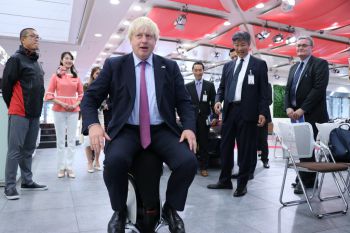 The choice of language used by Boris Johnson in addressing the nation over Coronavirus has been less effective in communicating empathy and unity than other world leaders, new linguistic analysis by a leadership expert reveals.
The UK Prime Minister's paternalistic and charismatic approach has also been less effective in directly addressing the realities of life in a pandemic compared to his New Zealand counterpart Jacinda Ardern, the analysis by the University of Sussex Business School details.
Close analysis by University of Sussex academic Dr Zahira Jaser into the use of language by the leaders of New Zealand and the UK finds Ms Ardern employing a more empathetic leadership style, which may have played a decisive part in her country's effective Coronavirus response.
The starkest difference in the leaders' style lays in their choice of verbs, the analysis finds. The most used verb by Mr Johnson in his first ten speeches on Coronavirus was to want (52 times) while Ms Ardern's most frequently employed verb was to need (48 times).
Mr Johnson's most used phrase was I want to, which he used almost four times more frequently than his New Zealand counterpart, while Ms Ardern used we need to (20 times for Ms Arden, 13 for Mr Johnson).
In addition, the New Zealand Prime Minister generally uses more collective pronouns aimed at bringing people together such as we (used 305 times compared to Mr Johnson's 230) and our (used 97 times compared to Mr Johnson's 57).
Dr Jaser, Assistant Professor at the University of Sussex Business School specialising in organizational behaviour and leadership, said: "The common perception of leadership communication is based on ideas of leaders as heroes whose talks relies on 'hard' qualities such as charisma, strength, vision and their use of rhetoric. By comparison, 'soft' qualities like empathy in communication are often perceived as a weakness showing a lack of assertiveness.
"The Coronavirus crisis is challenging that stereotype with many empathetic leaders like Jacinda Ardern rising impressively to the challenge. This crisis should be a time for all leaders at all levels to consider the effectiveness of their approach."
The analysis also reveals that Ms Ardern's empathetic approach did not mean shying away from hard issues.
Close examination reveals she employs a more direct style than Mr Johnson's - using hard seven times and strong five times, while her UK counterpart chooses not to use either word at all.
In her speeches she also addresses the economy more openly than Mr Johnson, using the word more than 70% more than the UK Prime Minister.
Ms Ardern's linguistic style is to compare living through the pandemic with collective positive experiences such as journeys or marathons and never reverts to Mr Johnson's preferred analogy of fighting a war against the enemy Coronavirus.
Dr Jaser said: "The dominance of the word want, which Boris Johnson uses frequently, are indicative of a leader who adopts the benevolent position of a father figure, and uses authority to persuade people to do something for good reasons. For Jacinda Ardern the frequent use of need reflects a leader who considers herself as 'one of them' with a focus on promoting mutual advantage.
"The use of more collective pronouns by Jacinda Ardern is an effective way of creating a sense of 'us' and building a communal domain. The leader relates to people in an adult to adult fashion, talks with them, in a shared conversation, rather than to them, in a paternalistic fashion.
"The communicative empathetic process is less based on persuasion, like charisma, and more on the connectedness that a leader creates with their people. Coherence means that hard messages can be passed on without the fear of becoming unpopular. Jacinda Ardern uses resolute, decisive, authoritative language, based on robust, explicit communal logics."