University of Sussex and Zhejiang Gongshang University to establish a Joint Institute in Artificial Intelligence
By: James Hakner
Last updated: Thursday, 30 April 2020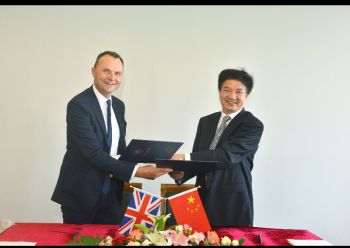 The University of Sussex and Zhejiang Gongshang University in Hangzhou, China have received formal approval from the Chinese Ministry of Education to establish a joint institute in artificial intelligence (AI).
The Sussex Artificial Intelligence Institute, Zhejiang Gongshang University will be the first joint institution in China delivering AI degrees.
Professor Adam Tickell, Vice Chancellor and President of the University of Sussex, said: "The launch of our joint institute with Zhejiang Gongshang University is a fantastic opportunity for collaborative teaching and is in line with our commitment to deliver high quality Sussex degrees globally.
"This is an exciting step forward in our commitment to internationalisation and we look forward to an innovative partnership."
The joint institute will offer a total of four undergraduate and postgraduate degrees; two BEng degrees and two MSc degrees. The bachelors degrees will be in Robotics and Electrical Engineering alongside Communications Engineering, while the masters programmes will be an MSc in Robotics and Autonomous Systems and an MSc in Artificial Intelligence and Adaptive Systems.
Professor Chen Shoucan, the President of Zhejiang Gongshang University, said: "The artificial intelligence joint institute established by the two universities is the right choice for both parties to grasp the frontiers of technology and industrial development. We look forward to collaborating in a win-win programme that will cultivate new talents and promote technological innovation, leading to further development of the AI industry."
The new degrees will start from September 2020 and will recruit up to 300 students annually. Students on the BEng programme will do four years of full-time study at Zhejiang Gongshang University and get joint University of Sussex and Zhejiang Gongshang University degrees, while the postgraduate students will receive full University of Sussex degrees.
Professor Richard Follett, Deputy Pro Vice Chancellor for International at the University of Sussex said: "This is a fantastic development and we are very pleased to be working in collaboration with our partners at Zhejiang Gongshang to deliver these exciting new programmes. Our school of Engineering and Informatics has tremendous experience in AI and we are delighted to be working with a Chinese partner of this calibre."
Professor Ian Wakeman, the Deputy Head of the School of Engineering and Informatics, will be leading the delivery of the Sussex components of the programme. He said: "It has been over a year in development and I have enjoyed working closely with colleagues at Zhejiang Gongshang. I believe the programme will strengthen both institutions' capabilities in cutting-edge engineering and artificial intelligence and my team is looking forward to working with the first cohort of students."
The joint institute, which is expected to educate up to 1,000 students over four years, offers a new way to go beyond physical space and considers the broader global and societal needs, particularly in a post Covid-19 world.