What's on WhatsApp: Sussex professor finding meaning in big data is the latest Impacted guest
By: Neil Vowles
Last updated: Thursday, 12 March 2020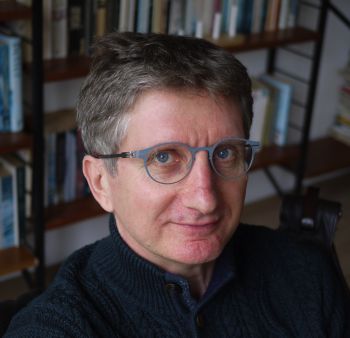 Understanding and harnessing the enormous power and impact of social media is one of the major challenges the world faces today.
A team at Sussex, led by Professors David Weir and Jeremy Reffin, has developed some pretty nifty tools that can help cut through the bewildering fog of mass data that social media creates every day to help government bodies, businesses and charities see more clearly, as Prof Weir explains in the latest episode of Impacted.
He is the latest Sussex academic to explain how his research is making a real difference in the real world in the Impacted podcast series which explores outstanding examples of research for real change at the university.
Co-founder of both the Text Analysis Group (TAG) and the Centre for the Analysis of Social Media (CASM) at the DEMOS think tank, he specialises in using machine learning to interpret the natural language of big data such as social media messages.
In the latest episode of the podcast, the Professor of Computer Science told hosts Will Hood and Suzanne Fisher-Murray how increasingly sophisticated AI creates nuanced personality profiles of individuals from our digital footprints and behaviour.



Prof Weir first began exploring the interests that would form his life's works in 1983 when he grew interested in the grammatical formalism that his PhD supervisor had come up with. This was quite a leap from his undergraduate degree at Sussex in experimental psychology.



CASM has also evolved into a spin-out consultancy which has worked with more than 20 organisations ranging from government departments including the Cabinet Office and Department of Health and Social Care to start-ups in Brighton and London to charities such as the Open Society, Joseph Rowntree Foundation and the Wellcome Trust as well as polling organisations such as Ipsos Mori.
Other successful projects have included working with the HM Inspectorate of Constabulary exploring what taxpayers are saying about police forces regionally and with the Home Office to help influence their policies on dealing with Isis and other jihadist terror groups.
Vital in the challenge of gaining insights from the big data of social media, is the software package developed by CASM called Method 52 which can be used by a domain expert to gather a large open-source data set and then teach the machine how to code it up in a way that can reveal characteristics of the conversation that are of interest.
For example, the software was used in the wake of the terrorist attacks in Nice in July 2016 to identify an increased presence of hate speech in the aftermath of the incident which claimed the lives of 86 people.



Prof Weir believes that big data will play an ever-increasing role within society but that it's influence will be both positive and negative.



To listen to the episode and others in the series visit here. Listen out for more episodes of Impacted in the next few months.