Jodie Grey, cafe manager at ACCA: "It's a totally different vibe here."
By: Jacqui Bealing
Last updated: Friday, 7 February 2020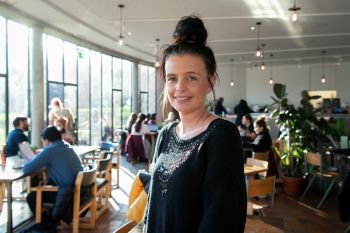 Jodie Grey, cafe supervisor at the Attenborough Centre for the Creative Arts (ACCA), talks about why she loves her job.
I was born in Brighton and began working in hotels when I was 16 while I attended City College [now The Met] doing a course on public services. My first job was at Holiday Inn, working in the restaurant and hosting at breakfast. I did this part time until I completed my course. This is where I met Alison [O'Gorman], who is my manager here. When Alison moved on to the Old Ship Hotel, I followed, and then when she came to work for Chartwells here at the University, I came here too! There's quite a few of the hospitality team who have done the same thing.
My first role here was in the Jubilee Building café, where I worked for two years. I really enjoyed it, and the people in the Business School were always lovely. When the position came up for the Attenborough Centre Cafe three years ago, I applied immediately. I found out afterwards that my uncle used to work in the bar here when it was previously known as the Gardner Arts Centre.
It's a totally different vibe here compared to working in a restaurant in town. The customers are so friendly. They like being in the café because it's such a nice place to be. They work away on their laptops, or have animated conversations with their friends about their social lives, saying things like "Oh my god, last night…" Sometimes they're upset or in tears and I ask them if there's anything I can do to help.
We do have customers who buy a coffee at 8.30am and are still sitting here at 6.30pm, but it's a study space too so we try to accommodate people. If you get a seat, good for you! The space doubles in size in the spring and summer because we have seats outside, and plenty of blankets for sitting on the grass.
The food is different here to fit the mood. The other cafes on campus have more of a "grab and go" food service. In ACCA we use crockery almost exclusively rather than take-away cups and plates, and the menu is different to the other cafes. The pancake stacks are very popular at breakfast. And people love the quiches and sausage rolls, made in the main kitchen at Bramber House by "Disco Dave".
We also have a lot of vegan items on the menu. The executive chef Alison and I plan the menus every September, and we try to make everything local. So, the bread is from The Real Patisserie in Brighton and we sell local beer and vegan/organic wine. Our main suppliers of meat, fruit and vegetables are both local companies. This is the same right across Sussex Food.
Everyone likes our house plants. They're supplied by a company in Brighton, and a person comes in every week to tend to them or give them a trim. We have to keep an eye on them as they can get damaged when it gets a bit crowded.
When there are events and big gigs on in the auditorium I usually pop in and have a look. I saw singer John Grant here the other evening and that was great. There's always something going on, which makes it an interesting place to work. I also help out at the Conference Centre on campus when there are events and dinners.
I don't regret not going to university myself. I wanted to get out of education as soon as possible. It's not for everyone. But I do enjoy working in a uni. I would like to work my way up in Compass Group and become a manager. It's a good company to work for. We have great benefits being part of a global group. There are fantastic career progression opportunities and a really good apprenticeship scheme, which offers sponsored degrees. What's also a big benefit is that we get Christmas and Easter off, which never happens in hotels and restaurants.