Southwest University delegation visits Sussex for research collaboration
By: Sephora Imomoh
Last updated: Thursday, 13 February 2020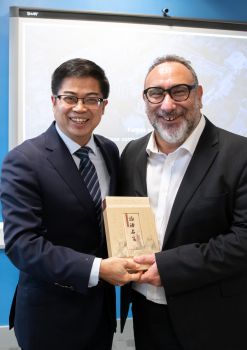 Mr. Zhang Fajun, the Director of International Cooperation and Exchanges led a high-level delegation of senior academics from Southwest University (SWU) to Sussex this January to discuss partnership opportunities covering research collaboration, student and staff exchanges.
They were received by Prof. Saul Becker, DVC and Provost of the University of Sussex. During their visit they were also hosted by senior Sussex academics from three schools; the Schools of Engineering and Informatics, Mathematics and Physical Sciences and School of Life Sciences. They shared current research areas where collaboration in research and faculty exchanges may be possible.
Head of Global Partnerships Ms Li Camm said 'Southwest University is an important partner for the University of Sussex and we are proud of our ongoing collaboration with them. We look forward to strengthening research links and supporting faculty and student exchanges'.
SWU also provided further details about their Summer School where faculty from Sussex would be eligible to attend and teach and Sussex students could attend to learn from international faculty from top universities around the world.