'Professor of happiness' honoured at winter Graduation
By: Jacqui Bealing
Last updated: Thursday, 13 August 2020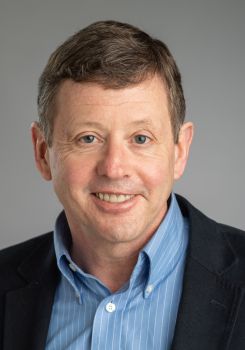 Professor Kent Berridge, who was conferred an Honorary Doctor of Science at the University of Sussex winter graduation on Wednesday 22 January, is among the world's most renowned neuroscientists.
His work, which explores how sensations of pleasure and desire are generated in the brain, has therapeutic implications for the treatment of a range of disorders, such as addiction, schizophrenia, and Parkinson's. It could also help to define our experience of happiness.
Currently the James Olds Distinguished University Professor of Psychology and Neuroscience at the University of Michigan, and a Visiting Professor in Psychology at Sussex, he attributed the direction his career has taken to the faculty who taught him at Sussex in the late 1970s, when he was a visiting student from the University of California.
He remembered Professor Maggie Boden for being "a remarkable philosopher of cognition and artificial intelligence, and simply a tremendously powerful mind", and thanked Professor Nick Mackintosh for showing him "the logical beauty of coherent analytical methods to dissect psychological processes".
In particular, he named the late Professor Richard Andrew as "a wonderfully gentle and perspicacious scientist, who showed how careful analyses of animal behaviour in the British-European ethological tradition can reveal unexpected features of underlying psychological processes and brain function".
The experience helped Kent to shape his research career and led to his ground-breaking study in 1993, carried out with Professor Terry Robinson, that suggested our experience of pleasure was not simply caused by a flood of the feel-good brainchemical dopamine.
Reward, he said, can be separated into psychological components of liking, wanting and learning, each mediated by different brain systems. Dopamine may account for us wanting rewards, but it doesn't lead to us liking them or deriving pleasure from them. In some vulnerable individuals, abused drugs can permanently sensitise dopamine systems to create addiction, causing intense wanting to take drugs, even if the drugs are no longer liked. Neural sensitisation also helps to account for why addicts may relapse into drug-seeking months or years after ceasing drug use.
The study continues to be among the top 20 most cited neuroscience papers. Among the many awards and honours Kent has received are the Grawemeyer Award in Psychology (2019) and the APA Award for Distinguished Scientific Contributions (American Psychological Association, 2016).
For 2019/20, Kent has returned to Sussex as a visiting professor. His focus continues to be on how the pleasure generators work together. He said: "Understanding the wanting side would also help us understand addiction better, and understanding the pleasure-liking side may also give a bit more insight into happiness."