Sussex Professor of Molecular Genetics awarded CBE in New Year Honours
By: Stephanie Allen
Last updated: Thursday, 2 January 2020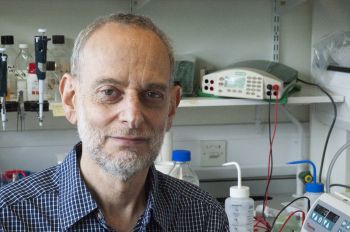 A highly respected University of Sussex Professor has been awarded a CBE the New Year Honours List 2020 for his services to medical science.
Professor of Molecular Genetics Alan Lehmann was awarded the CBE in recognition of his work and support for patients and families with Xeroderma Pigmentosum (XP) and Cockayne syndrome (CS) – extremely rare inherited conditions.
Professor Lehmann said: "This award came as a complete surprise and I'm flattered and honoured that my work has been highlighted in this way.
"It's especially gratifying that both my research on what goes wrong in these disorders and its more recent clinical applications, as well as my interactions with patients and families have both been recognized."
Xeroderma Pigmentosum (XP) and Cockayne Syndrome (CS) are extremely rare inherited conditions, affecting roughly one in 500,000 people. The ability of cells to repair the damage in their DNA caused by ultraviolet (UV) light and some chemicals is deficient, causing a heightened sensitivity to sunlight. This results, in XP, in severe sunburn, blistering, dry skin and eye problems, and in CS in sunburn and severe neurological problems.
Individuals with XP are also about 1,000 times more likely to develop skin cancer than those without the disorder. In extreme cases, all exposure to sunlight must be prevented, significantly affecting quality of life.
Professor Lehmann has spent many years studying XP at the Genome Damage and Stability Centre, and discovered the molecular basis for one form of the disorder.
He also established cellular diagnostic tests for XP and CS and for many years he has, together with his assistant Heather Fawcett, used these tests to confirm or exclude the diagnosis of XP or CS in referrals from all over the world.
In 2010, Prof Lehmann, together with Dr Bob Sarkany, Consultant Dermatologist at St Thomas's Hospital in London, obtained funding from the NHS National Commissioning Group to establish a multi-disciplinary national service for XP. The XP clinic for the service has been running every fortnight since that time and over 100 patients visit on a regular basis, representing more than 90% of XP patients living in the UK.
Earlier this year, the service was awarded the prestigious British Medical Journal (BMJ) award, which recognises a project that has measurably improved care for patients, and support for their families.
In February 2019, a similar service was established for CS which runs monthly.
Prof Lehmann is consultant scientist at both clinics, where he spends time discussing and explaining the condition to patients and their families, as well as speaking at patient support groups.