Sussex appoints BBC's Claudia Hammond as first Visiting Professor for the Public Understanding of Psychology
By: MARGARET Ousby
Last updated: Wednesday, 11 December 2019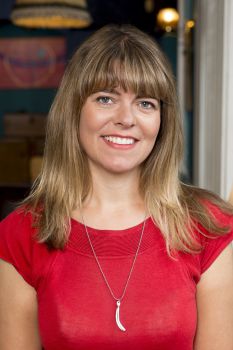 Award winning broadcaster and author, Claudia Hammond, has been appointed to the new role of Visiting Professor for the Public Understanding of Psychology at the University of Sussex.
The post has been specially created for Claudia, who studied applied psychology at the University in the 1990s.
As BBC Radio's voice of psychology and mental health, Claudia specialises in expanding public awareness of psychology in everyday life. In addition to presenting All in the Mind on BBC Radio 4 and Health Check on BBC World Service, she gives many public lectures and chairs events around the country.
Commenting on her appointment, Claudia said: "It's wonderful to be back at Sussex. I loved my time here and still use what I learned here. It's great to return to such a large, thriving psychology department. The aim of all my work is to allow anyone to take the best psychological research that's out there to apply it to their own lives. This appointment allows me to do even more of that and to help faculty and students to do the same."
Professor Robin Banerjee, who heads the School of Psychology at the University of Sussex, said: "We're absolutely delighted and very much looking forward to the contribution Claudia will make to teaching and interacting with students and faculty. Expanding public understanding of psychology and taking the work we do here at Sussex out to the wider world is something we believe in passionately and benefits both the University and wider society­."
Combining her background in psychology and her extensive media experience, Claudia has been one of the pioneers of involving the media with large-scale scientific research. She collaborates with academics and the media to help researchers reach large audiences and ensures the research is both engaging for the public and scientifically useful for the academics.
Claudia is the author of for books on psychology, all aimed at a general audience. Her latest, The Art of Rest, draws on her involvement in the largest global survey ever undertaken to examine the science of rest and relaxation.
This appointment builds on Claudia's reputation for championing the public understanding of psychology and neuroscience. In recognition of her work in this field, Claudia's awards include The President's Award from the British Academy, The Best Popular Science Book Award from the British Psychological Society, The Public Understanding of Neuroscience Award from the British Neuroscience Association and The Public Engagement & Media Award from the British Psychological Society.