"My responsibility is to give something back to society"
By: Jacqui Bealing
Last updated: Friday, 6 December 2019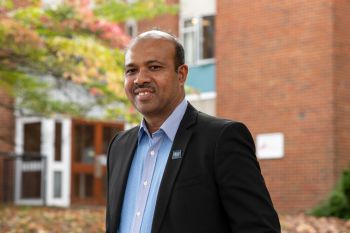 Studying at Sussex inspired Mamunur Rahman to help female factory workers in his own country. His initiative has now earned him a British Council Entrepreneurial Award.
By addressing a basic hygiene need for women, Manumur Rahman has potentially improved the working lives of millions of garment factory employees in Bangladesh.
Mamunur, who studied for a Masters in Gender and Development at Sussex in 2006, received the 2019 British Council Entrepreneurial Award for inventing a low-cost sanitary towel made from leftover clothing material.
His washable Ella Pads are not only environmentally friendly, they have the potential to reduce absenteeism for more than four million women working in factories where sanitation is inadequate.
He came up with the initiative after carrying out an intensive survey of garment/textile factories in early 2012 while working for the United Nations Population Fund in Bangladesh.
taboo
I found women had no access to the toilets in factories," he says. "They are working dawn till dusk and employers didn't want them to waste time in the toilets.
"This is the first generation of women who are working in factories and they are very shy. Menstruation is such a taboo that they cannot talk to the management about it."
As a consequence women were taking up to three days of every month off work, which equated to more than 200 million lost work days every year across the industry.
Mamunur observed the same issues for girls who were dropping out of education because of the prohibitive cost of menstrual hygiene products. "They are losing out on their education, and some are dying because of illness and disease. My own sister didn't finish her education."
sanitation
Although he grew up in rural Bangladesh, and was the only one of his classmates to graduate from high school and go to university, it was through studying at Sussex that Mamunur first became aware of the conditions of Bangladeshi garment workers.
While working in the development sector in Bangladesh, he applied for a Chevening Scholarship and chose to study for a Masters taught jointly by the Institute of Development Studies (IDS) and the University of Sussex, believing it would lead to a career in development in the UK.
"My dream of a brilliant career in the UK was destroyed by my course," he jokes. "I was learning about my own country through the research that was being done in IDS on development and sanitation.
"We always used to think that to solve our problems we needed resources from Western countries. We thought that if we didn't have the resources, we couldn't do it. But being at Sussex I saw that we have resources that we are not using. So it built my confidence to do something about it. The Community-Led Total Sanitation (CLTS) programme at Sussex has helped us to solve our own problems."
After graduating he joined the Ministry of Industries in Bangladesh, serving eight million small and medium-sized enterprises, and led the research and policy advocacy teams promoting women entrepreneurs.
Following his survey of factory workers in 2012, he set about raising awareness and funds for his Ella Pad initiative, eventually receiving a grant from the US State Department. Mamunur managed to get a professional affiliation with the D-Lab of Massachusetts Institute of Technology and developed another pilot project with a better quality product.
sustainable solution
Through working with factory owners, the Ella Pad Alliance has enabled women to become entrepreneurs and to make their own washable sanitary towels from material scraps. The industry produces around a billion bales of waste textiles every year that would otherwise end up in landfill.
Mamunur's initiative has so far improved the health, hygiene and employment opportunities for 100,000 women. The ambition is to reach the four million women working in the garment industry, and then 10 million girls in education.
"We also want to scale up the project in other developing countries where female factory workers face similar challenges," he says. "At the same time, we want to encourage a shift in global culture, away from plastic-based disposable sanitary napkins towards an eco-friendly sustainable solution of reusable sanitary towels."
For Mamunur, the greatest satisfaction is seeing how he has been able to make a difference to women's lives in his country. "Coming from a poor, rural background, where I am the only one who from my family who has been able to do a Masters in the UK, I know I have been super lucky. I think my responsibility is to give something back to society."
For more information visit www.ellapad.org
Read here about another Sussex graduate who was also a finalist in this year's British Council awards. Réjane Woodroffe (MSc in Economic Development, 2004) left a career in high finance to help South Africa's poorest rural community get on its feet.