Sussex neuroscientist working to improve science communication in Nigeria
By: Stephanie Allen
Last updated: Thursday, 7 November 2019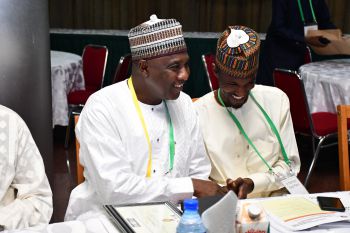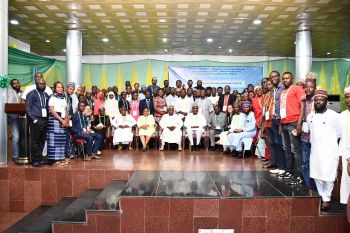 A neuroscientist at the University of Sussex is helping to improve science communications in Nigeria by partnering the country's top journalists with scientists and academics.
Dr Mahmoud Maina, a Postdoctoral Fellow in Sussex Neuroscience, and founder of the TReND in Africa Outreach Programme, has just returned from a three-day workshop in Nigeria focused on improving the quantity and quality of science communication.
Dr Maina said: "In Nigeria, science misconceptions are extremely high due to a lack of STEM culture. This affects health and wellbeing as many local people would rather seek advice from quack doctors without proper scientific research backing up their treatments.
"This is all largely due to the near absence of communication by scientists, poor interest in science journalism among reporters, and inaccurate reporting of research findings in the media.
"Our aim was to create a network where scientists and journalists could be offered adequate training to boost their confidence in either reporting on, or sharing, research in an accessible way. By pairing individuals from each profession we hope to encourage accurate science communication and, in turn, improve engagement from the general population."
Funded by the Wellcome Trust, the sessions offered guidance on how to simplify research and remove jargon to make findings more accessible, how to find and judge the reliability of sources, and the sharing of experiences of the two professions.
Over 70 individuals took part, with attendees from some of Nigeria's biggest papers, including Daily Trust, Premium Times, Vanguard, The Punch, as well as TV station NTA, while scientists gathered from various institutions across the country including, University of Ibadan, University of Lagos, Nnamdi Azikiwe University, Ahmadu Bello University Zaria, University of Maiduguri, Obafemi Awolowo University.
The Crick Institute supported the event along with Dr Katy Petherick, Public Engagement Coordinator at the University of Sussex who also attended.
She said: "This event was momentous because it was the first time scientists and journalists in Nigeria had been brought together. The training provided a foundation for attendees to build on. They also shared their own profession's challenges, which led to discussions expanding the potential for collaborations."
The event finished with a series of recommendations, and the official launch of the African Science Literacy Network (ASLN); a community of trained journalists and scientists who, it is hoped, will lead the way in promoting science communication in Nigeria and across Africa.
Dr Maina said: "This workshop was really just the start of a wider project. From now until September next year, we've paired the journalists and scientists and set them the challenge of working together on three research stories so hopefully we will immediately see an increase in science coverage in Nigeria.
"Going forward, we hope to expand this to include scientists and journalists from across Africa because we feel that the best way to promote public understanding and trust for science is when scientists and journalists work together and not separately."
Immediately upon his return to Sussex, Dr Maina took part in an in conversation event with Professor Idowu Olayinka, a fellow of the Nigerian Academy of Science and Vice-Chancellor of Nigeria's premier university; the University of Ibadan. The discussion revolved around the emerging opportunities in STEM and its potential on Africa's development.
Dr Petherick said: "Having the shared experiences of both journalists and scientists, Mahmoud and the ASLN are able to work collectively to reach out to senior university staff, editors and policy makers to build sustainable developments in science communication that will lead to a significant culture change in science reporting and support."