On the trail of Annie Brassey
By: Jacqui Bealing
Last updated: Monday, 14 October 2019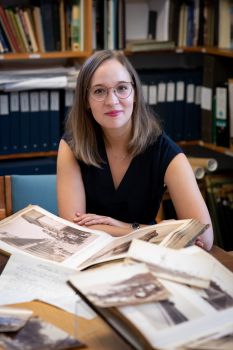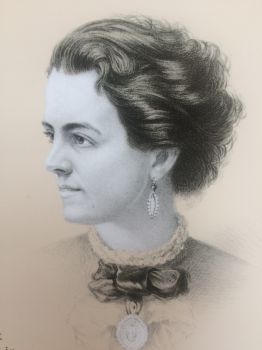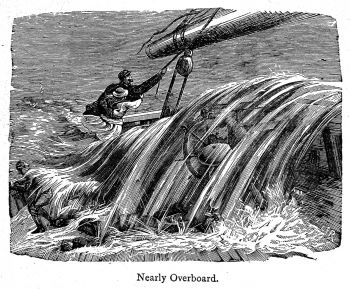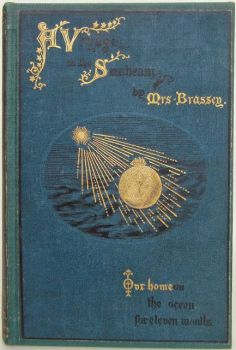 When Sarah French began a doctoral thesis on the photographic collection of a much-travelled Victorian woman, she had little idea of the extraordinary journey she would also be taking.
The collection was started by Annie Brassey, the wife of Hastings MP Thomas Brassey, who sailed around the globe with her husband and their children aboard their luxury steam yacht, Sunbeam.
As well as taking her own images, which she developed in an especially made dark room on board the yacht, Annie gathered the work of commercial photographers to create a visual record of their trips.
Her engaging travel journals, including the international bestseller A Voyage in the Sunbeam, Our Home on the Ocean for 11 Months (published in 1878 and translated into 17 languages), brought her fame and recognition.
Now Sarah, who has a degree in photography from the Arts University Bournemouth and an MA in Art History from Sussex, is exploring the photographic archives to see what more they can reveal about the Brasseys' adventures.
With funding from the Consortium of the Humanities and the Arts South-east England (CHASE) for her doctoral project - a collaboration between the University of Sussex and Hastings Museum and Art Gallery - she is cataloguing the ethnographic collection at the museum and making connections with photographs at Hastings Library and The Keep records office in Falmer, East Sussex.
She will also be spending three months in California next year to review thousands of photographs from the Brassey family that are now housed in the Huntington Library in San Marino.
"I grew up in Hastings and was familiar with the Brassey name because they were big local philanthropists," says Sarah. "There are streets named after them, they financed the building of the Brassey Institute, which is now the local library, and several artefacts are on display at Hastings Museum from the family's travels, including weapons and clothing.
"The photos by Annie aren't all of the best quality, and we don't know how she learned to use what were then large format cameras with glass plate negatives. But she was one of the few women at the time who were members of the Royal Photographic Society."
The Huntington Library bought their collection at auction at the beginning of the 20th century. Sarah became interested in why the photos weren't with the ethnographic collection. "My ambition is to reintroduce photography to the museum collection to add context to the story."
Annie Brassey's story is certainly unusual. Born in 1839, the daughter of a wealthy wine merchant, she married Thomas Brassey in 1860. Brassey inherited £5 million (the equivalent of £29bn today) from his father, who'd made his fortune building railways around the world.
The money gave Thomas the opportunity to indulge in his passion for maritime adventures, and between 1869 and 1887 the Brasseys left their Sussex home, Normanhurst Court in Catsfield, to embark on cruises to Japan, Australia, and South America.
The Sunbeam was built in 1873 in memory of their daughter Constance, who died of scarlet fever at the age of four. The lavishly furnished 157-ft-long steam schooner made its first circumnavigation of the globe in 1876, carrying the Brasseys and their three surviving children, together with a crew of 30 and numerous pets and livestock.
While her husband wrote about nautical and navigation matters, Annie, who had developed a keen interest in botany and nature in childhood, documented the more colourful details of their journey.
In A Voyage in the Sunbeam she describes riding through the jungles of South America, her children almost being swept overboard in a storm, the shock of seeing slaves bought and sold in Buenos Aires, and rescuing a crew from a burning cargo ship.
Her journal entries, which she sent to her father to be circulated among friends and family before being published for wider audiences, also mention the European settlers and indigenous people they met en route, and the meals they ate together.
"The books are all very jolly and upbeat," says Sarah. "People enjoyed reading about the adventures of her family, but it also meant that she was criticised for the domesticity of her writing."
In an attempt to be taken seriously, Annie would reference the travel accounts of Captain Cook and Charles Darwin, and would often comment on the commonly believed narratives of the time.
"There were lots of assumptions about what these people from the corners of the globe were like, yet she was giving very detailed descriptions of actual encounters with them," points out Sarah. "She contradicted Darwin's view of a tribe in South America that he had described as 'the lowest form of civilisation', and she was critical of the work of missionaries."
Annie, who became Lady Brassey when her husband was knighted in 1881, certainly seems to have been a whirlwind of energy and activity. Her diary entry of the day before the Sunbeam's first voyage describes how she was at a party till 1am, then went to a concert, got in at 3am, and asked to be woken at six so that they could make their journey to Rochester, where the yacht was moored.
In addition to writing about their travels, she raised money for charitable causes by holding exhibitions on the yacht of the many artefacts they had brought back. Their 'Sunbeam treasures' included a ceremonial cloak of exotic feathers from the Kingdom of Hawai'i. The cloak is now on display at Hastings Museum.
"She was interested in souvenirs, and botanical specimens and was gathering and collecting, as well as being given gifts and buying in auctions," says Sarah. "It was so encompassing that she wasn't always taken seriously as a collector, though she was highly knowledgeable."
Annie's philanthropic interests extended to supporting St John Ambulance and giving members of Working Men's Clubs free entry to her exhibitions.
Despite her energy, Annie suffered from what her husband described as an inherited "weakness of the chest". After contracting malaria in 1869, she experienced frequent bouts of fever until her death in 1887 at the age of 47, on a voyage to Mauritius. She was buried at sea.
A year after her death, her husband opened the Lady Brassey Museum at their London home in Park Lane to make a permanent exhibition of the collection. He had bought carved wooden display cases made for the South Kensington Colonial Exhibition in London in 1886 and fitted them into their home. The cases were transferred to Hastings Museum in 1919, after the death of their son, and are now used to exhibit ethnographic items from The Brassey Collection and elsewhere.
"Since I began the PhD last October, I've realised there's enough material for a dozen PhDs," says Sarah. "Although she was very popular in the late 19th century, I hadn't realised that Annie wasn't much remembered outside Hastings. But now, especially with a new biography being written about her by Frances Osborne, there seems to be a revived interest in her life and her work."