Sussex quantum science goes on tour
By: Anna Ford
Last updated: Thursday, 10 October 2019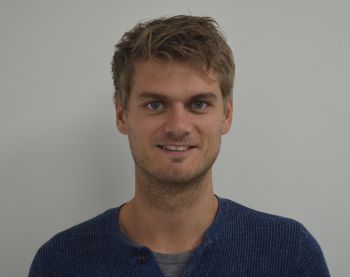 The University of Sussex is known to be home to a wide array of quantum science expertise - but now people can meet our world-leading scientists and see our pioneering quantum technology outside the lab too.
With an installation at the Science Museum, and a pop-up event at the Brighton Digital Festival, the University of Sussex is sharing its love of all things quantum with the outside world.
On Monday 14 October, people can visit the World Turned Upside Down exhibition at 3 Hanningtons Lane, Brighton. Step inside a 'shop' full of quantum and let the university's physicists guide you through the mysteries of the quantum world. But beware: it's a head-spinning place in which things can be in two places at once. And it's the foundation of a wide range of new technologies currently being developed at the University of Sussex and beyond.
Learn how those technologies may change the world including quantum computers, atomic clocks, quantum sensors, quantum imaging devices, and a sub-atomic particle tracking device, as well as a Virtual Reality experience which will allow you to step inside a quantum computer. In addition, the evening will feature a talk by Prof Winfried Hensinger on quantum computers and their applications.
And in London, the Top Secret exhibition at the Science Museum includes a model of a new quantum computer prototype currently being developed at the University of Sussex. Functioning quantum computers are expected to impact society on a profound level with application areas ranging from drug development, tackling global warming as well as in the fields of energy, finance and more. The Top Secret exhibition coincides with the 100th anniversary of GCHQ, the UK's Intelligence, Security and Cyber agency, and was opened by the Queen this summer. It runs until February 2020 and will then move to the Science and Industry Museum in Manchester from October 2020 - February 2021 followed by the National Science and Media Museum in Bradford from July 2021 to late February 2022.
Dr Sebastian Weidt has organised Sussex's involvement in both of these exhibitions. He works in the University's Sussex Centre for Quantum Technologies. Sebastian says:
"At the University of Sussex, we love all things quantum: from the lab in which we're building a quantum computer, to our quantum imaging inventions, to the atomic clock we're developing which will see us navigating without the need for GPS. We are really excited to get the opportunity to share our love for quantum and these ground breaking developments with the people who will eventually benefit the most from them.
"I am also really pleased to see our quantum computing work feature in the prestigious Top Secret exhibition at museums across the country and hope people will enjoy it."