National award recognises teaching excellence of Sussex Foundation Year Team
By: Stephanie Allen
Last updated: Monday, 5 August 2019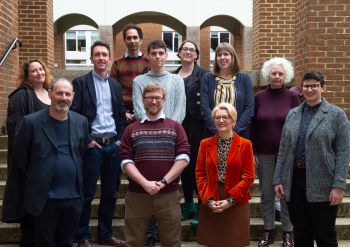 The University of Sussex's Central Foundation Year Programme have won a Collaborative Award for Teaching Excellence (CATE), announced by Advance HE today.
Led by Senior Lecturer Dr Graeme Pedlingham, the team are one of 15 in the UK to receive the award, in recognition of the outstanding impact of those who teach or support learning in higher education.
Dr Pedlingham said: "We're thrilled to have been recognised with this prestigious national award for our work with the Central Foundation Year programme.
"Since launching in 2015, the Programme at Sussex has gone from strength to strength. This award reflects the whole team's exceptional teaching expertise, collaborative spirit and care. It's a great privilege to work with such dedicated academic and professional service colleagues from across the University.
"This moment is particularly special as our first cohort of students received their degrees at Summer Graduation this year having achieved outstanding success."
Other 2019 CATE winners include Birmingham City University, Liverpool John Moores University, the London School of Hygiene and Tropical Medicine, Nottingham Trent University and the University of Bristol.
Alison Johns, Advance HE's chief executive, said, "Congratulations to all our 2019 winners of these two prestigious, national awards.
"Becoming a National Teaching Fellow or winning CATE team is a huge achievement. It can be truly life-changing. Creating ambassadors for innovative and impactful teaching who are valued by institutions and colleagues, and who can set in motion change and enhancements to make a really positive impact on student experience and outcomes across their institution and beyond.
"Advance HE looks forward to working with the winners to help to disseminate their work for the benefit of all."
Dr Ben Calvert, Deputy Vice-Chancellor at the University of South Wales and Chair of the 2019 Teaching Excellence Awards Advisory Panel, said, "These awards really are the pinnacle of reward and recognition in teaching and learning.
"The 2019 winners are rightly proud of their achievements and I am sure they will continue to share their knowledge as individuals and teams so that their institutions, colleagues and the wider higher education sector can benefit from their expertise."
The team will receive their award at a special ceremony in Manchester on 16 October.
Read more about the Collaborative Award for Teaching Excellence including winning team profiles online here.