"The enormity of what I was about to do was terrifying"
By: Jacqui Bealing
Last updated: Tuesday, 23 July 2019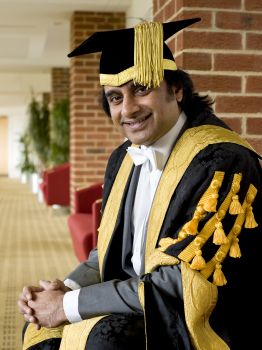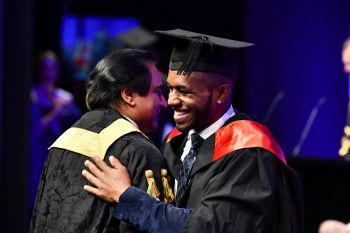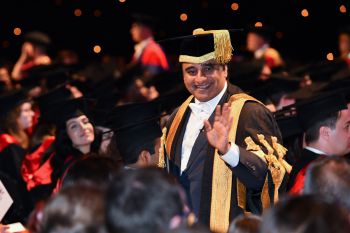 Ten years ago Sanjeev Bhaskar was quaking in his best shoes.
Although he'd already had great success writing and appearing in TV series such as Goodness Gracious Me and The Kumars at No. 42, and had received an OBE, he was about to follow in Lord Attenborough's footsteps as the new Chancellor of the University of Sussex.
"The enormity of what I was about to do was terrifying," he says. "I remember looking at the students' newspaper, The Badger, and seeing my 'approval rating' as the choice for Chancellor being just 30 per cent.
"These were students who had expected to receive their degree from a Peer of the Realm, an Oscar-winning film director, a legend. Instead, as one student put it, they were getting me, 'a third-rate TV comedian'."
Realising that he had to win over the student body, Sanjeev took his predecessor's ethos of empathy, compassion and joy as his template – and then added a sprinkle of his own wisdom, and some well-chosen humorous anecdotes.
It worked. Within three years he noticed that he was receiving "more hugs than handshakes" from the graduands during their moment of glory.
Hugs
"I've never insisted on hugs, that's totally the graduates' choice or not, both of which I totally respect," he points out. "To begin with, I felt I had to perform. But then I realised that I was just the conduit for the students to express themselves in whichever way they chose.
"There's something vulnerable about a student walking onto the stage with their arms open. But the fact that they can do that, that they feel they have the agency to do it, is a wonderful thing. I find it really moving."
As a happy consequence, he says he has lost count of the number of times Sussex alumni have approached him or tweeted him years later to tell him that their graduation was "the best day of their lives".
The numbers will continue to grow. Since 2009 he has conferred more than 50,000 degrees on students, and has personally congratulated nearly 40,000 recipients. In addition, he considers it an "incredible privilege" to have presented some 60 honorary degrees, including to those he knows in the entertainment industry, such as fellow humourist Stephen Fry.
Fame
Now 55, with recent film credits that include Richard Curtis' latest comedy, Yesterday, as well as three series playing DI Sunny Khan in the acclaimed ITV drama Unforgotten, it's unlikely that anyone would describe his status as third rate.
But he is always aware of the fragility of fame, and the need to stay mentally well-grounded.
"I didn't become a success until I was 35," he says. "I'd lived all my life up to that point feeling a failure. I hadn't done that well at school. I'd disappointed my parents because I didn't have a good career. And when I became famous, I found it strange and a little difficult."
He remembers how, after being a guest on Parkinson (his chat show host hero), he had returned to the small, dark rented flat he was living in at the time, and asked himself, "Who am I?"
Therapy helped him through this, particularly in recognising negative feelings about himself. "As a result, I would say that I am 'me' more of the time than I have ever been – whether I'm up, down or whatever.
"There should be a lot more discussion about mental health and working out who you are and what makes you happy. The difficulty in society is that the markers of success in general are about the size of your salary or how much your house is worth; how far you have travelled.
"But we should be changing those markers to measuring our compassion and our happiness. When I meet students at graduation, I hope that every single one of them will have an opportunity to shine at something that's fulfilling to them."
Born in Ealing, Sanjeev grew up in Hounslow above his parents' laundrette. They had arrived from India and were enamoured, he says, by what they perceived to be the distinctive British values of "fairness, politeness, and being smart".
Humour
These also formed his foundation of Britishness, together with the warmth and humour of "Auntie Phyllis and Uncle Gordon", who ran the chip shop next door, and a life-long admiration for actor Roger Moore, whose debonair style and wonderful voice "made it all look easy and fun".
It wasn't so easy for Sanjeev, especially at school. "The girls liked me – although not romantically – because I was quick and funny. But I was not one of the cool kids. I experienced some bullying."
In sixth form he was completely ostracised for six months. "No one would sit next to me or talk to me. I think the boys saw me as a threat because the girls liked me. In fact, I had almost self-destructive levels of empathy. I was in a fight at school and I didn't want to hit the other boy's face because I didn't want his mother to be upset if he ended up with a bloodied nose. He hit my face though."
It's no surprise to hear that he is not in touch with any of his old classmates. "I don't know what any of them are doing …although I'm pretty sure they all know what I am doing," he can't resist adding.
The unhappiness continued to a lesser extent at university (Hatfield Polytechnic), where Sanjeev took a diploma in business and finance, and then a degree in business and marketing; choices he made to please his parents rather than himself.
It wasn't until his early 30s that he finally began performing, touring the comedy circuit with his college friend, Nitin Sawhney (awarded a Sussex honorary degree just six months before Sanjeev became Chancellor) as The Secret Asians.
He recognises now that it was something he'd wanted to do from a very young age. "My mother remembers that when I was six and we were watching actors on the telly, I would be saying things like 'I could do better than that.' I must have had an instinctive feel for how scenes should be acted."
As well as drama, he has presented documentaries such as a BBC series on India (and wrote the accompanying book), and earlier this year fronted an episode of BBC Two's Icon series, in which he examined the achievements of 20th-century activists such as Gandhi and Martin Luther King.
Not everything has worked out. Together with his wife Meera Syal, he briefly resurrected The Kumars for Sky TV. The reviews were good, but Sanjeev was disappointed. "They asked me to make changes that I wasn't happy with and in retrospect, I should've refused."
Education
On the whole, however, he doesn't have a plan other than to continue to make a living and enjoy the journey, whichever direction it takes him.
With education remaining one of his passions, he is considering diving into studying again. "I'd like to do a doctorate, perhaps in something film related, or cultural. I would be a much better student now. I would know why I was doing it."
He also wants to experience more of campus life and feel more involved in the daily life of the students before they reach graduation – something his work schedule has made tricky for the past few years.
"Being asked to be the Chancellor at Sussex, was an unbelievable gift," he says. "Ten years later, I really do feel a strong connection to the university. For me, emotionally, it's a good fit. The university reflects me, and I think I reflect the university. The reactions during graduation tell me that."