Sussex student named rising star for founding innovative wind energy company
By: Neil Vowles
Last updated: Friday, 19 July 2019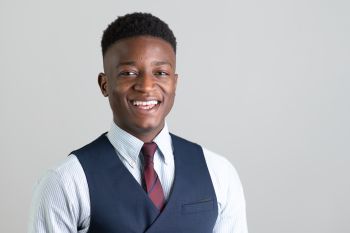 University of Sussex student Hlanganiso Matangaidze has been named as one of 2019's Top 10 Rare Rising Stars - an annual awards ceremony celebrating the UK's top ten black African and Caribbean university students.
The Rare Rising Stars awards, which aims to share positive stories about black students and to inspire the next generation by providing them with access to role models, was held at the House of Commons on Thursday [July 18] sponsored by David Lammy MP.
Hlanganiso was among ten Stars selected by this year's judges Kem Ihenacho, Sophie Chandauka, Tia Counts, Tom Chigbo, and Trevor Phillips OBE and selected for their determination, depth of achievement, breadth of talent, initiative and leadership, from a shortlist of high achievers.
Hlanganiso's story of entrepreneurship, vision and desire to help his homeland wowed his judges.

He was born in Zimbabwe, and came to the UK with his family at the age of five.

At fourteen, he started his first business as an in-house personal tutor working with his classmates and peers in Biology, Chemistry and Physics, acing GCSE past papers ahead of class and teaching three or four students each week.

In Year 10, Hlanganiso and his friends started a wristband customisation service with their pocket money, selling personalised emergency contact information wristbands to Duke of Edinburgh expedition students to wear in case they became lost.
As a fresher at Sussex where he is studying Economics and Finance, Hlanganiso began to reflect on the differences in infrastructure between the UK and Zimbabwe, in particular noticing the problem of frequent power outages in the latter.

After conducting his own research, he found that 67% of the Zimbabwean population and 88% of Malawi's population have no access to the electricity grid, a figure that contributes significantly to the 1.2 billion people globally who have no reliable source of electricity.
Discovering Sussex Innovation Centre's annual enterprise competition, StartUp Sussex, Hlanganiso founded and entered his new RED initiative, pitching his idea to build low-cost, vertical wind turbines and distribute them across rural Zimbabwe and Malawi.

RED was one of ten StartUp Sussex finalists chosen by judges and fellow students from the 39 teams in the competition and the only first year student project to be picked to receive a £500 Santander Entrepreneurship Award and an eight-week intensive mentoring course at the Sussex Innovation Centre.
Hlanganiso went door-to-door to sign up his first customers in Zimbabwe, sourcing funding from British angel investor Damien Tanner, and starting funding conversations with Strive Masiyiwa, one of Zimbabwe's wealthiest men.

The pilot scheme produced wind turbines made from recycled parts like discarded washing machine motors, but struggled to produce sufficient electricity during initial testing due to a lack of high, constant winds.

Undaunted, Hlanganiso and his growing team turned their attention from wind to more reliable solar energy, and registered the RED GROUP as a private limited company in May 2018. In the same month, RED came second out of 500 initiatives in the Sussex Innovation Centre Social Impact prize, being recognized for an exceptional contribution to sustainable development.
RED provides a distribution service for solar energy systems to power basic household appliances, with the objective of bringing clean, affordable, renewable energy to rural areas and communities.

Hlanganiso brought on two fellow student co-founders in October 2018, using his StartUp Sussex support, office space and winnings to conduct more research, develop his business further and build self-contained electric grid systems for solar energy.

Starting with 12 of its first 40 solar kits in rural households in Zimbabwe in summer 2018, RED's pilot scheme has reached 80 households at the time of writing, and aims to distribute a reliable solar energy source to 2,400 people over the next phase. RED users pay in small increments of approximately 36p per day under a credit finance system until they own the system themselves, bypassing the outage and blackout-prone National Grid of Zimbabwe altogether.
So far, Hlanganiso and his team have received £8,000 of funding for RED, and have reached the final round in the Young Start Up Talent competition. They have also made it into the top five of the Lead2030 Challenge, which supports youth-led innovation for the Sustainable Development Goals.