Sussex really does LOVE Quantum
By: Rebecca Bond
Last updated: Thursday, 25 February 2021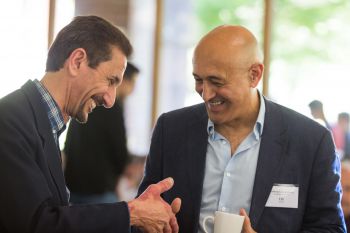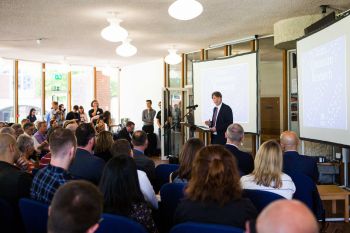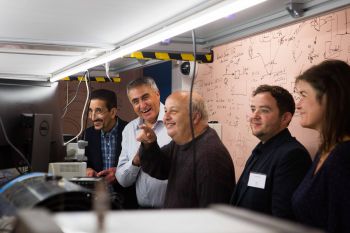 The Meeting House on campus was packed out last week for our Sussex Loves Quantum event to launch the Sussex Programme for Quantum Research.
To kick things off Professor Jim Al-Khalili (as seen on TV and featured on Radio 4 presenting The Life Scientific) delivered a brilliant talk on quantum biology. The day continued with a host of other impressive scientific talks from Prof Richard Layfield, Prof Jacob Dunningham, Prof Mara Cercignani, Prof Anil Seth, Shobita Bhumbra and Dr Gary Kendall. Topics ranged from consciousness, chemistry, neuro imaging, and electrical vehicle batteries to an overview of the breadth of quantum activities here at Sussex. The occasion truly showcased the interdisciplinary opportunities available with quantum technologies.
Both Provost, Prof Saul Becker and Vice Chancellor, Prof Adam Tickell made appearances and delivered addresses before welcoming Chris Skidmore MP, Minister of State for Universities, Science, Research and Innovation. We were thrilled that Chris Skidmore chose Sussex Loves Quantum to announce new funding to the National Quantum Hubs.
He tweeted after the event "Great to speak to researchers at @SPQRsussex @sussexuni event today to announce the £94m investment made available to the National Quantum Hubs today- we've invested over £1billion in Quantum to become global leaders in this crucial technology for the future."
Behind the scenes, Prof Peter Krüger and Shobita Bhumbra were also showing Chris Skidmore MP our labs which he officially opened and they were interviewed for BBC South East.

Both Prof Peter Krüger and Prof Alan Dalton, Directors of SPQR were thrilled with how the event went. Peter said "The feedback has been phenomenal with people saying how inspired and excited they are about the quantum science that is happening right here at Sussex. We are already discussing new collaborations so watch this space."
The day finished off with tours of the quantum technologies laboratories. If you missed out and would like a tour of the labs, a copy of our brochure or feel inspired to talk about collaborations, please get in touch.