Sussex researcher secures prestigious funding to promote science communication in Nigeria
By: Jessica Gowers
Last updated: Monday, 20 May 2019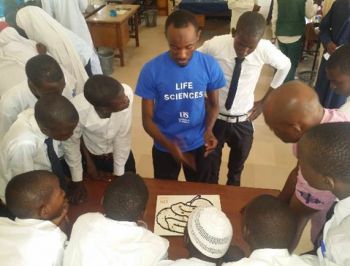 A University of Sussex neuroscientist has received over £78,000 to improve the reporting of science and health research in Nigeria.
Dr Mahmoud Maina was awarded the Wellcome Trust Public Engagement fund, following a successful application entitled Scientific Literacy in Nigeria: Boosting Science Communication and Journalism.
In an attempt to tackle inaccurate reporting of science in the media, the project will bring together local scientists and journalists and provide them with training, with the ultimate goal of increasing public confidence in health research.
Dr Maina, Research Fellow at the School of Life Sciences, said: "I am extremely excited to be a recipient of Wellcome Trust's public engagement award. A strong science communication network is important, especially where there is a high level of misconceptions about science.
"This award will enable us to build such a strong network where journalists and scientists will form a long-term partnership that would facilitate and sustain engagements that promote public understanding, trust and support for science. I look forward to the execution of the project."
Dr Maina secured the funding through his work with TReND, a non-profit organisation dedicated to improving science education and research in Africa.
In 2013 Dr Maina founded the Outreach branch of TReND, and continues to manage the Outreach team, which now has over 90 members in ten African countries.
Prof Sarah Guthrie, Head of School of Life Sciences, said: "It is fantastic to see Mahmoud's dedication to public engagement recognised by this prestigious funding. Mahmoud has done a terrific amount in the School to inspire others around his work in Africa.
"As a university, we are committed to working to bring real benefits to society, as demonstrated by the 'Engage for Change' pillar of our strategy. This project is a perfect example of this; congratulations Mahmoud!"
The funding will be used to hold three intensive two-day public engagement and science journalism workshops. These will train scientists on how to 'sell' their research and journalists on how best to represent science stories in the media.
As part of the project, scientists and journalists will be paired up and asked to produce media content about health research happening in their local region. These will be entered into a competition and the best three pieces of media will be published in the UK, in collaboration with the University's publicity team and the Crick institute.
The project will also allow scientists and journalists to network and build contacts for future collaborations. Dr Maina plans to facilitate this through Science Communication Hub Nigeria, an online platform that aims to make Nigerian scientists more accessible to students, journalists, educators and policymakers.
Dr Katy Petherick, Public Engagement Coordinator in the School of Life Sciences, will lead the public engagement workshops. She said: "I am thrilled to see Mahmoud's commitment to science engagement in Nigeria recognised by the Wellcome Trust. He has already achieved a lot by increasing outreach activities delivered by local researchers and building science communication networks across Nigeria, and this project provides the opportunity to build on this previous impact through media engagement. I look forward to seeing the outcomes of the work."
This project is a partnership between the University of Sussex, TReND and the Francis Crick Institute.