Female business leaders inspire young people at 'Women in Business' event
Posted on behalf of: University of Sussex Business School
Last updated: Wednesday, 17 April 2019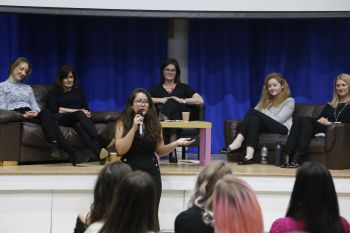 On 29 March 2019, the event 'Women in Business' was launched with the support of the University of Sussex Business School. This was an opportunity for young people to meet and be inspired by female entrepreneurs and business leaders from Brighton and beyond.
The event was designed to inspire, motivate and connect young businesswomen and entrepreneurs to allow for collaboration and success. This is all whilst celebrating the rise of gender equality in the business world.
Many guests were invited to take part in the two panels that took place on the night. Guests on the enterprise panel: Alice Reeve, Sophie Turton, Clare Griffiths, Kristina Pereckaite, Sara Osterholzer and Sitara Johns, spoke about their entrepreneurial experiences and the challenges they have faced as female entrepreneurs, before taking questions from the audience. Panellist Kristina Pereckaite, an Entrepreneur Development Manager at NatWest Accelerator, is currently a mentor in the Sussex Business Mentors scheme, which pairs our students with local business professionals to help them improve their employability skills.
The second panel focused on the inspiring stories of female businesswomen who have been successful in the corporate world. Chaired by Deputy Head of Business Engagement at Sussex, Kate Thorpe, the panellists included Helen Bailey, Helen Usher, Josie Greenwood and Rachel Hepburn. Attendees were treated to delicious coffee catering from the local social enterprise, ProBarista's, during the intervals. There were also stalls from PwC, the Thrive Effect and AccessoRe, allowing attendees to network and learn more about the businesses.
Event organiser and second year Business and Management studies (with a placement year) student, Catherine Park has given her thoughts on the event: "From the moment I stepped into the venue for the first time, in my head, I thought I could envisage exactly what the event would look like... How wrong I was. The night was better than I could have ever have imagined, and the energy in the room, from the speakers and audience alike, was one that was truly unforgettable. This event was important to me as it proved that the idea I had seven months ago could become a reality. It has given me the courage to take it further than I could have even dreamt of. I think to summarise the event in just a short sentence... it would be Kristina's final words 'feel the fear and do it anyway!"