Students awarded coveted scholarships by Brighton technology company
By: Neil Vowles
Last updated: Tuesday, 5 March 2019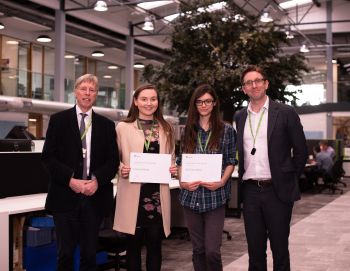 Brighton-based global technology company, Paxton, has announced its scholarship students for 2019.
As a sign of its commitment to investing in the local community and in young talent, the company has offered scholarships to four students from the University of Sussex and the University of Brighton.
They will each receive £10,000 towards their university fees, plus a three-month paid work placement at Paxton where they will take part in technology research projects that will form the final year project of their degree course.
The students are:
Zoë Earnshaw, Physics, University of Sussex
George Livas, Computer Science, University of Brighton
Annabel Spain, Digital Media, University of Brighton
Connie Went, Mathematics, University of Sussex
Connie, 19, from Haywards Heath, said: "I genuinely couldn't believe it! I will class this as one of the greatest achievements of my three years at uni. The scholarship will give me first hand experience in the tech industry, which will be great for teaching me further applications of my degree."
Zoë, 20, from Shaftesbury, said: "I'm so proud. The scholarship seemed too good to be true, so I didn't expect I'd have a chance. I'm looking forward to finding out more about my summer role and getting to know the other scholars."

Based in Brighton, Paxton designs and manufactures intelligent security systems enabling controlled access to buildings like residential blocks, schools, gyms, hospitals and high-prestige facilities such as Manchester United's Old Trafford stadium and Sky Deutschland.
Now in its second year, the Paxton Scholarship is open to students studying engineering and product design-related courses.
This year, the programme was expanded to include an additional place and was also open to the University of Sussex for the first time.
The students were selected after attending an open day at Paxton's state-of-the-art-technology centre in November, an assessment day and interview.
Congratulating the four, Adam Stroud, Paxton's Chief Executive, said: "Following on from the successful debut of the Paxton Scholarship in 2018, we are delighted to have expanded further to award more scholarships, across both the University of Brighton and Sussex.

"During our open day, we played host to over 140 engineering, science and mathematics students. It was a pleasure to witness the level of talent and engagement among this group. It gives us great confidence in the talent pool of the future and re-enforces why Paxton wants to engage with the local community in this way.

"I would like to thank the universities for their considerable ongoing support of this scheme, Paxton employees for doing such a great job of representing their company, and all students who took the time to come and visit our head office building in Brighton.
"Finally, a huge congratulations to our 2019 scholars - Annabel, Connie, George and Zoë."

Professor Stephen Shute, Pro-Vice-Chancellor at the University of Sussex, said: "The Paxton scholarship provides Sussex students with a great opportunity to gain first-hand knowledge and experience working with a leading UK firm.

"The financial support and practical guidance they'll gain will contribute greatly towards their academic success. It is fantastic to see Sussex-based companies like Paxton recognising and rewarding talented students from the University of Sussex with such scholarships."