Work to start on redevelopment of Bramber House
By: Alison Field
Last updated: Thursday, 22 July 2010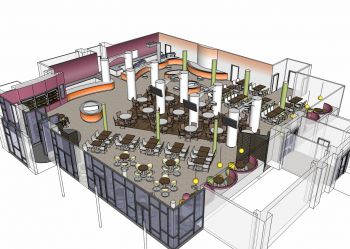 Work starts in mid August to redevelop the catering and retail facilities on the ground floor and first floor of Bramber House.
On the ground floor, an extension is being built and the existing space is being expanded, increasing the current seating capacity of 110 to a maximum of 250.
When it reopens in summer 2011, the lively catering area on the ground floor will incorporate four different styles of eatery, offering 'grab & go' snacks, made-to-order sandwiches/rolls, a tapas style choice of dishes and hot food.
A new, large supermarket will open in the space currently occupied by the newsagent, McColl's, post office, Baguette Express and toilets. Operation of the supermarket will be put out to tender in late 2010. A post office service will be included in the new retail facilities.
Full refurbishment of the first-floor restaurant will create a flexible dining space and different styles of service (buffet counter service - offering hot and cold dishes, a salad bar, etc - or plated banqueting service). The aim is to create a relaxed dining experience with comfortable seating. There will be also be a dedicated coffee bar/wine bar area.
The aim is to create new and innovative facilities with a contemporary feel: flexible space with a broader range of catering services to meet the requirements of all customers, including students, staff, conference delegates and visitors.
Work on the redevelopment will start on 16 August with the erection of hoardings around two-thirds of Bramber House and the clearance of the ground-floor areas (including the Coffee Shop).
Some services based in Bramber House will be affected more than others during the works:
The third-floor Terrace Room will be converted so that it can serve hot food at lunchtimes from the end of September 2010 (when the first-floor Downs Restaurant closes) until the new first-floor dining area opens in June 2011.
The remainder of the third-floor Conference Centre will remain open for conference business during and after the refurbishment.
The ground-floor retail units (newsagent, McColl's supermarket and post office) as well as the Baguette Express and toilets will remain open until the Easter vacation 2011.
The Housing Office and the launderette will be relocating to Park Village in readiness for the start of the autumn term 2010.
To minimize disruption - to teaching on the second floor, to conference events on the third floor and to staff working in the building - much of the noisy work will be carried out in the evenings.
It is currently anticipated that all works will be completed and the new catering facilities fully operational by the end of the summer term 2011.