University of Sussex Masters student becomes youngest female MP in Zimbabwe
By: Stephanie Allen
Last updated: Monday, 29 October 2018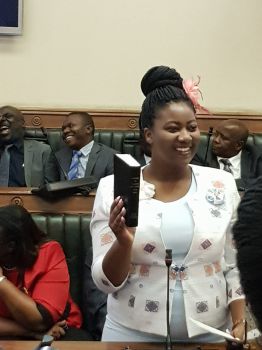 A 25-year-old University of Sussex Masters student has become the youngest female MP in Zimbabwe.
Until the end of September, Joanah Mamombe was a postgraduate student of Molecular Biology and Genetic Manipulation. She is expected to graduate next year.
In the recent elections, Joanah was elected as MP for the Harare West constituency with 20,045 votes - defeating her nearest rival by more than 14,000 votes.
As the youngest female in the house, she's hoping to become an ambassador for young people.
Joanah said: "I feel that I have broken the barrier that keeps young people out of political spaces. I feel that I can be a champion and an example for other young people to take leadership and get into parliament.
"Being the youngest MP has added a lot of pressure to my portfolio as I feel I carry a generational burden. A lot of my peers see me as a door opener and yet there are very few opportunities.
"I am committed to being an ambassador for young people but I do recognise the challenges that lie ahead. It is thus imperative, without sounding naïve to the political realities in Zimbabwe, that as a young MP I seek to bridge the political divide on matters critical to young people so that laws and policies as well as government programs are designed.
"I want to be a voice for young people and I will speak on youth issues from my lived reality."

Joanah became active in public and political affairs as a student, first at the University of Chinhoyi where she became the first female Secretary General, and later in her role as National Gender Secretary for Zimbabwe's national student body ZINASU, which saw her coordinate a number of campaigns to highlight the plight of students, even at risk to herself.
Joanah came to the University of Sussex as a recipient of the 2017 Canon Collins Scholarship, a prestigious academic award for postgraduate study in the UK.
She undertook her MSc at the School of Life Sciences, with an interest on cancer therapies and Parkinson's.
She feels that being a Sussex student undoubtedly helped with her political identity and campaign.
Joanah said: "In my campaign, I was constantly referred to as the 'young molecular biologist' and the STEM MP.
"Without a doubt Sussex put weight and identity to my profile that made me prepare for and run a successful campaign. I'm greatly indebted to my classmates and lectures and more importantly to Canon Collins Trust that supported my studies."
Joanah will now be calling on her scientific background to fight for improvement in Zimbabwe's public health laws.
She explained: "As a public health specialist I seek to be the leading voice in the fight for improvement of our archaic public health laws and systems. More specifically, I want to deploy my knowledge and skills of cancer to fight for enhanced and accessible services for ordinary people, particularly women."
Find out more about Joanah Mamombe on the MDC Alliance website.