'Champion of Science' recognised for positive impact of research communication
By: Stephanie Allen
Last updated: Wednesday, 17 October 2018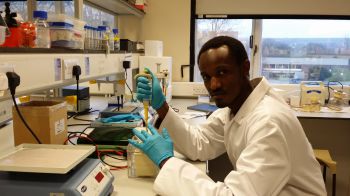 Dr Mahmoud Maina, a research fellow in Biochemistry, has won a competition recognising research in Africa which makes a positive impact on society.
Dr Maina entered the 'Champions of Science – Africa Storytelling Challenge' submitting notes on his research and community work in Nigeria.
In the letter notifying him that he'd won, the research fellow was told that his submission was 'deemed by an independent selection committee as engaging and inspirational, clearly communicating passion for science as well as views on the important role of science in society.'
Dr Maina said: "I'm extremely delighted to be the winner for the YASE edition of the Africa's Champions of Science Award.
"Many years ago, I decided to become an ambassador for science in Africa through public engagement with my research, in order to enhance public understanding, trust and support for science, as well as inspire the future generation of African scientists.
"This led me to start two large scale projects with TReND in Africa and Science Communication Hub Nigeria, which has led to tens of thousands of students, teachers, government officials and policymakers to connect with science and scientists across Africa.
"I am very happy that the importance of this work has been recognised by the judges of this award."
The challenge, run by Johnson & Johnson Innovation, aims to showcase the contributions of scientists and innovators in Africa, build public engagement for science and inspire a new generation of scientists to drive the continent's socio-economic transformation.
Dr Maina added: "Wherever they are, I believe scientists, now more than ever, in addition to their regular research, need to be science communicators; to sell their research, dispel misconceptions about it and inspire future generations."
Dr Maina founded the Outreach Programme for TReND in Africa, a higher education charity dedicated to improving university level science education and research in sub-Saharan Africa. Alongside his research, he now serves as an Outreach Coordinator for the programme. The research fellow also founded Science Communication Hub Nigeria to enhance students' access to science role models and public access to accurate science.
In 2017, he was a recipient of the Royal Society of Biology Science Communication Award and became a Fellow of the Royal Society of Arts in 2018, with the mission to enlarge science through public engagement in Africa.