Sussex law students win 'Advice Project of the Year' from Citizens Advice
By: Alice Ingall
Last updated: Monday, 29 October 2018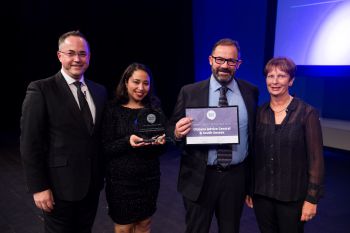 The Citizens Advice Project, part of the University of Sussex Law department's Clinical Legal Education programme, has won the 'Advice Project of the Year' award at the Citizens Advice annual conference.
The project is a collaboration with Citizens Advice in Central & South Sussex. The award-winners were announced at an evening ceremony at Manchester Central last night (Thursday 11 October).
The project with Citizens Advice Central & South Sussex sees University of Sussex law students undergoing intensive training with the charity, and then advising their clients on a range of legal issues, such as housing, welfare and family law. In the last academic year, 722 people were helped at the Citizens Advice clinic. Of those, 532 were complex cases.
The Citizens Advice 'Advice Project of the Year' award recognises a project that makes it easier to get advice – whether it's a new partnership, new way of delivering services, or a new way of reaching clients.
The other five awards announced last night were One Service Working, Championing Equality, Money and Financial Support, Outstanding Research and Campaigns and Volunteer of the Year. The category winners are chosen by a panel of senior staff from Citizen's Advice.
The University of Sussex Clinical Legal Education programme was established by Dr Amir Paz-Fuchs in 2016 and it has already become one of the most comprehensive free legal advice clinics anywhere. Advice given by students, under the guidance of tutors and lawyers, covers the Citizens Advice Project, litigants in person, employment law, family law, housing and welfare law, criminal justice law. This academic year also sees the launch of the first ever migration clinic, to help local migrants with their legal problems.
Dora Castro – a University of Sussex student volunteer at a Citizens Advice in Crawley, who received dedicated training with them through the University's project – spoke about what it meant to her:
"Working for Citizen Advice has been a great experience as I had the opportunity to help people and get to know the real issues out there that are affecting people's lives.
"I learnt that we all at some point in our lives will need Citizen Advice, the work that the volunteers do every day changes people's lives and that is priceless. The project has taught me to be analytic, to think outside the box, to ask the right questions, to be patient and above all to never judge. I hope that the people I advised felt better and more confident after an interview or phone conversation. I do believe that knowledge is power and as future lawyers, we need a society that is well informed so they can also fight for their rights."
Jason Mather from Central & South Sussex Citizens Advice, said:
"It is a fantastic outcome to be recognised by the national Citizens Advice team as innovative, collaborative and engaging young people to help in their communities across a range of channels. The fact that the project has been integrated into the academic curriculum provides something very special – I am really pleased with this result."
Dr Bonnie Holligan, University of Sussex Citizens Advice project lead, said:
"We are all delighted that the hard work of our students and partners at Citizens Advice has been recognised with this competitive award. Participating in the project is always eye-opening for students and, most importantly, our volunteers help Citizens Advice to provide advice to more local people who need it."
Through additional Clinical Legal Education projects during the 2017-2018 academic year, University of Sussex law students helped 82 people without their own legal representation through activities such as explaining paperwork or taking notes for them (known as the CLOCK project). Forty-eight people were helped with family law issues, and 19 people were helped with employment problems. The students helped 20 people with housing issues and nine people with criminal justice challenges. Students working on the criminal justice clinic also assisted the Prisoners' Advice Service with five cases, and worked with the campaign group Joint Enterprise Not Guilty by Association (JENGbA) on two cases.
Anyone looking for free legal advice should contact the clinic.