'Anarchist Prince' to be commemorated with blue plaque
By: Stephanie Allen
Last updated: Thursday, 6 September 2018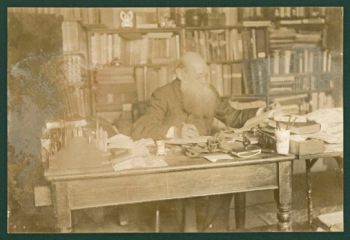 A blue plaque commemorating a Russian Prince and revolutionary anarchist is to be unveiled in Kemp Town after a successful campaign by a team from the University of Sussex. .
The plaque for Prince Petr Kropotkin, a scientist, geographer and social philosopher who lived in Brighton from 1911 to 1917 will be unveiled on 7th September at a small ceremony at his old house on Chesham Street.
Dr Gordon Finlayson and PhD student Valentinos Kontoyiannis from the Centre for Social and Political Thought, together with Adrian Goyocoolea from the school of Media, Film and Music, have been pushing for recognition for Kropotkin for almost two years, working with the inhabitants of the philosopher's old house.
Dr Finlayson, Reader in Philosophy, said: "Petr Kropotkin, known as the "anarchist prince", spent 30 years in exile in London and Brighton at the turn of the last century. But he was not only a founder of anarchism - and a real Russian prince. He was a genius whose ideas about mutual aid and cooperation among animals and humans were ahead of their time. Never has his environmental, political and social theory been more relevant than it is today."
Alderman Francis Tonks, last mayor of Brighton, led an attempt for a commemorative blue plaque to be installed from 2003 but was unsuccessful. An unofficial commemorative plaque was mounted at the Sea Life Centre instead, followed by the naming of a Brighton and Hove bus.
Kropotkin was a respected intellectual with a world-wide reputation and an audience that included Lenin and Tolstoy.
Born a Russian Prince in 1842, he was trained for the Tsar's court but after reading Darwin's On the Origin of Species, decided he wanted to be a scientist instead. He became a geographer and naturalist before developing an interest in socialism, joining a group in Russia which spread revolutionary propaganda among workers in Moscow and St Petersburg. It was around this time that Kropotkin was first arrested. He escaped to Europe and eventually came to settle in London and then in Brighton before returning back to Russia in 1917.
His notable work, Mutual Aid, published in 1902, developed a theory that society could be organised by individuals working in co-operation rather than competition, as in social Darwinism.
Kropotkin's theory of mutual aid was partly inspired by observations at the Brighton Aquarium (now the Sea Life Centre) where he watched crabs spend hours rescuing another that had turned on its back.
Academics at the University of Sussex contend that, although neglected, Kropotkin's work is still relevant to today's world, not least in Brighton with the existence of food banks and free-cycle.
Valentinos Kontoyiannis, a Philosophy PhD student, said: "The enduring relevance of Kropotkin's thought cannot be overstated - in these times of global austerity, environmental degradation, and governance crises that are marked by an erosion of public trust in our political and economic institutions, Kropotkin's writings can help us to not only understand our current predicament, but more importantly, to envision sustainable alternatives that are conducive to convivial forms of life.
"We are hopeful that the installation and unveiling of the blue plaque at the Chesham Street property where Kropotkin lived during his time in Brighton, will spark a renewal of interest in his work and Brighton's long tradition of radicalism."
Mrs. Barbara Saville, a Russian historian who now lives in Kropotkin's old house, supported the academics' efforts to get the prestigious recognition for the Russian philosopher.
She said: "We were delighted to get a letter from Dr Gordon Finlayson indicating that they were interested in applying for a blue plaque for Kropotkin. I had been thrilled to learn that Petr Kropotkin had lived in this house when we moved in so it's wonderful to have his important time in Brighton marked in this way."
Mrs Saville will join various members of Brighton and Hove Council and the Blue Plaque Panel at the installation of the plaque on Friday 7th September. The ceremony will also be attended by several academics from Sussex and Cambridge who live in the neighbourhood