What will Brexit mean for gender equality?
By: Alice Ingall
Last updated: Friday, 6 July 2018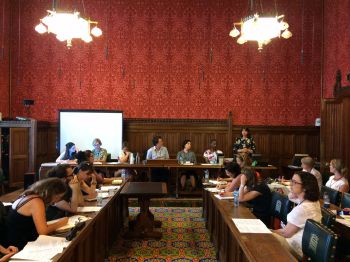 Will Brexit affect women more than men? And what about people within the LGBTQ+ community? A team from Sussex Law School held a seminar, in partnership with the Equality and Diversity Forum Research Network, in Parliament this week to explore exactly these issues.
The event, on Wednesday 4 July, was hosted by Seema Malhotra, MP for Feltham and Heston, who is a member of the Commons Select Committee on Exiting the EU. Pulling together academics from across Europe and as far afield as New Zealand, with policy makers, lawyers and NGO officials, the University of Sussex team welcomed 60 guests to consider the equality agenda facing women and sexual minorities after Brexit.
The seminar builds on analysis from the University of Sussex's Gender and Queer Perspectives on Brexit project (led by Dr Moira Dustin, Professor Nuno Ferreira and Professor Susan Millns), the findings of which will be published by Palgrave in a collection of essays entitled Gender and Queer Perspectives on Brexit due out later this year and in a special issue of the European Journal of Politics and Gender due in summer 2019.
The Gender and Queer Perspectives on Brexit Project identified a myriad of issues that will affect women and sexual minorities, arising from Brexit. These range from questions of representation and democracy, through to issues of equality law, family law, health care law, human rights, citizenship rights, employment rights and social rights, together with the constitutional dimensions affecting devolution in Scotland and the peace process in Northern Ireland.
The seminar identified key risks to all EU citizens (both UK and non-UK) together with third country nationals (or those who come from outside the EU). Areas identified included: the loss of equality and maternity rights; the loss of the status and benefits of EU citizenship; the loss of the protections in the EU's Charter of Fundamental Rights; and an anticipated down turn in the country's economic performance which will exacerbate the contraction of the public sector and the disproportionate number of women affected by poverty. The seminar also explored options around the incorporation of international equality standards into UK domestic law, once the safety net of EU law disappears.
Professor Susan Millns comments:
"The urgency with which the issues affecting women and the LGBTQ+ community by impending Brexit must be addressed was pointed out sharply and poignantly by policy makers, legal practitioners and NGO officers attending this week's seminar. Of particular concern was evidence of a corresponding rise in hate crime against both non UK nationals and UK nationals from non white ethnic backgrounds. It was fantastic to have Seema Malhotra MP in attendance, who issued a rallying call for collaboration from participants in order to raise the profile and urgency of these issues with members of parliament and the parliamentary Brexit Committee.
"I urge other researchers interested in these or similar issues to assist in the defence of key equality rights through the transition period and post-Brexit by contributing expertise and research to our project. We mustn't sleep-walk into a gender and sexual minority rights desert."
The seminar was chaired by Professor Andrew Sanders (Head of the School of Law, Politics and Sociology), with closing remarks from Prof Susan Millns. It included talks by experts from the University of Leeds, the University of Strathclyde, the Equality and Human Rights Commission and from the head of the National Centre for Research on Gender Equality in Norway. Participants heard from experts before there was an open discussion about the prospects for women and gender and sexual minorities after March 2019.
If you would like to contribute to the Gender and Queer Perspectives on Brexit project please get in touch with Prof Susan Millns, Dr Moira Dustin or Prof Nuno Ferreira at: S.Millns@sussex.ac.uk, M.Dustin@sussex.ac.uk, N.Ferreira@sussex.ac.uk