UK's first clinic to prevent family transmission of anxiety launches in Sussex
By: Anna Ford
Last updated: Thursday, 12 July 2018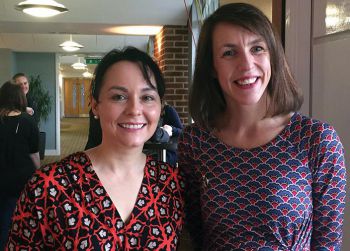 The UK's first clinic to prevent family transmission of anxiety launches in Sussex today, Friday 15 June 2018, following a successful trial.
Devised and led by clinical psychologists Professor Samantha Cartwright-Hatton from the University of Sussex and Dr Helen Startup from the Sussex Partnership NHS Foundation Trust, the Flourishing Families Clinic will deliver workshops aimed at 'raising confident children' for parents with anxiety.
Research has shown that mental health disorders run in families, and children of anxious parents are at high risk of anxiety disorders themselves. Evidence suggests that this is largely due to environmental factors, and that genetic predisposition is only a small part of the story.
Recent studies also suggest that supporting parenting can reduce these risks whilst improving the mental health and welfare of the parent. Despite evidence suggesting that parenting interventions are highly effective in reducing children's emotional and behavioural problems, the NHS is not currently offering any targeted support for parents with anxiety or depression of children over two years old, and in some areas as young as one year.
Professor Cartwright-Hatton is an expert in child anxiety disorders, and one of a handful of psychologists world-wide working on the transference of parental anxiety to children.
Professor Cartwright-Hatton says: "We have a real opportunity here to make a difference to the experience and outcomes of families living with a parent or carer with anxiety. We know that anxiety can be absorbed by children, and that poor mental health can be a legacy passed down through generations.
"We also know that, with the right interventions, much can be done to reverse that trend and that parents or carers experiencing anxiety can – if well supported – be a positive influence on their child's mental health. Through our clinics we want to support the wellbeing of parents struggling with anxiety and equip them with the tools to go on to raise confident children.
"My hope is that this model will eventually be rolled-out through the NHS across the UK to meet the needs of families that currently fall between the gap of adult and child mental health services working in isolation."
Dr Helen Startup, Consultant Clinical Psychologist, said: "The Flourishing Families clinic is an excellent opportunity for improvements to be made to the mental health support that is currently offered to parents with young children.
"At present, specialist mental health services can offer support to mothers throughout pregnancy and up to 12 months after the birth of their child – who may be experiencing difficulties such as anxiety - but after that time, the intensive support provided changes to a more generic Child and Adolescent Mental Health Service (CAMHS).
"This new clinic will enable parents and families who experience high levels of anxiety themselves to feel better supported and as a result, hopefully prevent their young person from developing an anxiety disorder in the future."
A trial of the Clinic – which included 100 adult participants – found that children of parents who took part were 16.5% less likely to have an anxiety disorder one year later than children whose parents were in the control group. The workshops have been developed to give general advice on raising confident children, whilst taking into consideration the additional complexities of having a mental health diagnosis. They are easily accessible as well as being an inexpensive intervention for the NHS to deliver.
The workshops, which run over two sessions, a week apart, have group sizes of up to 10 adults. They are available to all parents about to receive, or who are currently receiving treatment through the Brighton and Hove Wellbeing Service and have at least one child aged 3-11 years old.
The clinic is also soon to be rolled out across East Sussex in Health in Mind.