Global supply chain Masters students boost career prospects with advice from industry experts
By: Russell Eke
Last updated: Thursday, 26 October 2017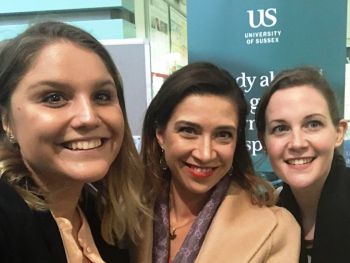 Sussex Masters students on the Global Supply Chain and Logistics Management MSc have boosted their employability in workshops with industry experts from Nestlé and Sky.
Course leaders invited a trio of internationally acclaimed supply chain experts to challenge students in assessment centre-like interview workshops. All attendees were given valuable guidance by:
Students received tips and tricks for landing a job, as well as clear strategies on how to fit the needs of a talent-seeking multinational company, giving them distinctive edge for future interviews.
All in attendance enjoyed the interaction, with many students citing it a highlight of their experience at Sussex.
The course attracts an internationally diverse set of students and its graduates are highly regarded in industry. Christopher Johnston, who graduated in 2017, landed an internship and subsequent placement at Nestlé under Ana-Maria's guidance and has since progressed to the role of Supply Stream Planner.
Other recent alumni have joined organisations including Amazon, GSK, Google, Pfizer and Safran Group.
Find out more about our Global Supply Chain and Logistics Management MSc