Jeremy Corbyn meets first-generation students in University of Sussex visit
By: James Hakner
Last updated: Monday, 25 September 2017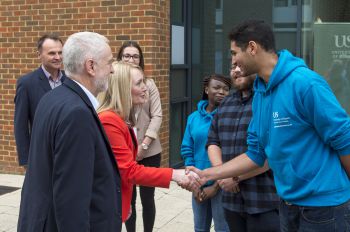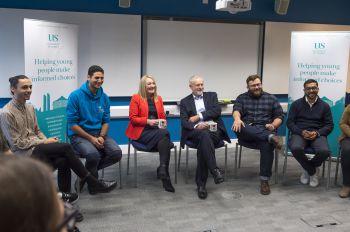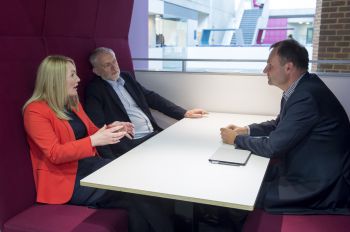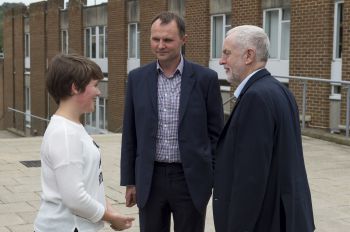 Jeremy Corbyn, the leader of the Labour Party and Jo Platt, Parliamentary Private Secretary to the Shadow Education team, visited the University of Sussex today and learnt about its award-winning work to boost social mobility.
Mr Corbyn took time out from the Labour Party Conference, which is taking place in Brighton this week, to visit the University and meet students who are the first in their family to go to university and receive a means-tested scholarship from Sussex.
The students told him how being part of the University's First-Generation Scholars scheme has opened doors for them to new career paths, study opportunities and personal growth. Frida Gustafsson, the new President of the Students' Union, was on-hand to meet Mr Corbyn and Jo Platt.
The discussion was followed by a one-to-one conversation with the Vice-Chancellor, Adam Tickell. He said:
"We welcomed the opportunity to have a constructive discussion with Jeremy Corbyn and Jo Platt on how the University of Sussex is making sure young people from all backgrounds get the chance to go to university, thrive while they are here and then go on to have great career prospects.
"Through our First-Generation Scholars scheme, the University is significantly investing in a programme which provides financial and pastoral support to around 40 per cent of our student body.
"We offer one of the most generous packages of support in the UK – not only giving students money in their pocket, but also developing opportunities to build their aspiration. Crucially, our FGS students are now just as likely to get a good degree and go onto graduate-level jobs as the rest of the Sussex student community.
"We know there is a lot of talk about university access and that's why we invited Jeremy Corbyn to the University today, so that he could meet Sussex students and see the proof that schemes like ours really do work."
The First-Generation Scholars scheme raises aspirations for under-represented young people, starting at school, continuing through university, and then into the workplace. For those from lower-income families, there is a financial support package, which includes the option of cheaper rents while at university.
Lenny Rolles, the University's Head of Public Affairs, said: "We regularly invite politicians from all parties to our university to demonstrate the fantastic work our staff and students do; today we were particularly proud to talk about our achievements in improving social mobility."