Syrian refugees speak of their happiness of studying at Sussex
By: Jacqui Bealing
Last updated: Wednesday, 24 May 2017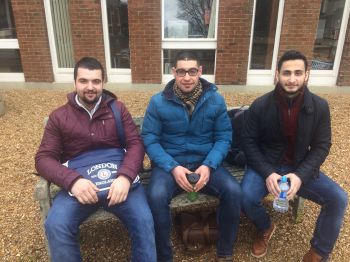 For nine months Izalden endured extreme danger, hardships and disappointments as he trekked across Europe to escape the horrors unfolding in his home country of Syria.
Now he has embarking on a new journey – into education.
The 25-year-old is among 15 Syrian refugees to have been awarded the first Sussex Refugee Scholarships, which enables him to take free English language tuition courses at the Sussex Centre for Language Studies (SCLS) at the University of Sussex.
Set up by the University, with additional generous donations from alumni and the wider community, the scheme funds 50 places on a range of English language courses for different levels of ability. The aim is to help refugees prepare for work or further study in the UK.
Through 21 hours of tuition a week over the course of 28 weeks, Izalden hopes to improve his English sufficiently to progress onto a university degree course. He says: "It was so difficult for me to get here, and I am so happy for this opportunity."
Izalden left his home city of Dara'a, near the border with Jordan, at the end of 2011 as the civil strife in Syria began. Like many young people, he had joined demonstrations against the government. "We were asking for freedom and change."
But the demonstrations became violent as the government forces turned on the protestors. Izalden, who was at college studying IT, was advised by his father to leave the country for his own safety after his cousin died during the fighting.
With his education disrupted, Izalden abandoned his plans to study in the UK and moved to Lebanon to work with a cousin. He hoped things would settle down in Syria within a couple of months. But when the situation worsened, he decided to head to England by whatever means he could.
His expedition across Europe involved hazardous boat trips, spells in prison after being stopped by authorities, trekking through snow with small children on his shoulders and long car journeys with ten other people crammed into a small vehicle. "There were times when I thought I would rather go back to the war," he remembers.
But his final arrival in the UK in 2013 is one of his happiest memories. His first destination was London to stay with his brother, who has lived in the UK since 2006. Eighteen months ago Izalden moved to Brighton, where he is combining his studies with working part-time in a fish and chip shop.
He prefers Brighton to London. "It's friendlier. Everyone is smiling. When people hear I am Syrian they are sympathetic and they say you are very welcome in our country."
He adds: "We are not a lazy people. We are smart, we are clever, we are very hard working. Friends of ours, they went to Germany just two years ago and now they have a business."
His fellow student, Louis, 22, has a similar story. He was studying accounting in Damascus when, in 2014, the city became too dangerous for him to stay.
Despite the risks of travelling as a refugee, he says it was worth it. "No area is safe in Syria. You don't know where the bombs are coming from."
And he fears for his relatives still living in Damascus. "I speak to them when I can, but they have electricity for just one hour a day. I would like to go back to Syria, but not for a long time. I want to study here and have a good future."
Like both Louis and Izalden, 23-year-old Jawad, who is also from Damascus, is combining his English language learning with working part time in a take-away. He left Syria three years ago and spent several months in Nottingham before moving to Brighton, where he lives with his brother.
"I want to complete my language course and study economics here," he says. "I love Brighton. I like the sea. I like the weather!"
Professor Ray Satchell, Director of Sussex Centre for Language Studies, said: "Since the idea was first suggested, we've been eager to get this scholarship scheme off the ground; Equipping all our students with the skills to enable them to reach their full potential is something we care about passionately.
"Despite the traumas each of our students has gone through, they are settling in well and working extremely hard. It's been inspiring to see how committed they are. Now we're looking forward to receiving applications for the next intake."
All of the students studying at Sussex became residents through the UK Government's Syrian Vulnerable Persons Relocation Scheme (SVPRS) or have been granted Refugee or Humanitarian Protection status.
Each scholarship is worth up to £10,000 and covers all tuition fees and study materials. To find out how you can make donations to the scheme, visit here.