Second round of the Harry Kroto Fellowships launched
Posted on behalf of: Sussex Research
Last updated: Friday, 24 February 2017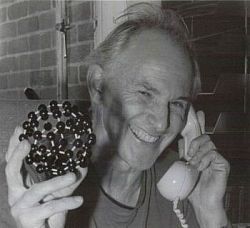 A second round of the Harry Kroto Fellowships has been launched today (Wednesday 22 February).
The Harry Kroto Fellowships, named after Nobel Prize winner Professor Sir Harry Kroto, aim to enable the brightest research talent from Sussex to develop sustainable collaborative research with institutions overseas.
This scheme, launched in 2016 and administered by Sussex Research, aims to consolidate sustainable collaborative research with international partner institutions and to provide Sussex's early career lecturers and rsearchers with opportunities to establish their research trajectories and generate research income.
The scheme is intended especially to assist those recently appointed to lectureships who are balancing the demands of both teaching and research.
Applicants are invited to work with whichever institution outside of the UK is most appropriate for the intended outputs, and we particularly welcome applications to work with the University's designated strategic partners.
The scheme will fund overseas visits for a period of between 2 weeks and 3 months.
The first two Harry Kroto Fellows were recently announced. Awards were made to Dr Sarah Scuzzarello (Global Studies) with Mahidol University, Thailand and Dr Liang Chen (BMEc) with Renmin University of China.
The deadline for round two is 12 noon on Tuesday 2 May 2017.
Further details about the scheme and how to apply can be found on the Sussex Research website.
If you would like to discuss a potential application, please contact Alan Lester or Carly Brownbridge.