Pioneering social work education partnership launches
By: Lynsey Ford
Last updated: Friday, 15 June 2018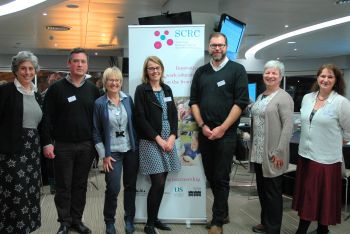 The University of Sussex has teamed up with East Sussex County Council, Brighton & Hove City Council and the University of Brighton to launch a new teaching partnership.
The South Coast Regional Centre for Education (SCRC), which has secured funding from the Department for Education, focuses on delivering excellent social work education on the frontline.
Consisting of three hubs - the Student Learning Hub, Professional Development Hub and Practice Research Hub - the SCRC will provide an enhanced teaching and placement experience for students, a defined career pathway for social work practitioners and research which is driven by issues experienced by adults and children's social workers.
Professor Gillian Ruch, Head of Social Work at the University of Sussex, said: "The newly constituted South Coast Regional Centre for Social Work Education is an exciting opportunity for our universities and councils to work together to deliver excellent frontline social work education which really benefits our local community.
"It is crucial we do everything we can to support children, adults and families who are experiencing difficult circumstances - by working together through this new partnership we can help to transform the lives of some of the most vulnerable people in our society."
At the SCRC launch Liz Rugg, Assistant Director for Children's Services at East Sussex, commented: "Securing the teaching partnership against strong competition was a real achievement and recognises the strong partnerships that are already in place between the two universities and the two local authorities. This exciting development will support us to take social work to the next level in Brighton and Hove and East Sussex."
One of the key aims of the SCRC is to recruit and retain high-quality social work graduates in the local area, equipping them with skills and confidence to make a difference for children, adults and families in East Sussex, Brighton and Hove.
Richard Cattell, Principal Social Worker for Adult Services in Brighton and Hove, said: "One of the great things about the SCRC is that it's not only a partnership across organisations but also one which brings together Children's and Adult Services, allowing us to bring a more cohesive and joined up approach to social work."
For more information please visit: https://www.eastsussex.gov.uk/jobs/social-work-with-children/scrc/