Play co-conceived by Sussex expert wins top BBC radio award
By: James Hakner
Last updated: Thursday, 2 February 2017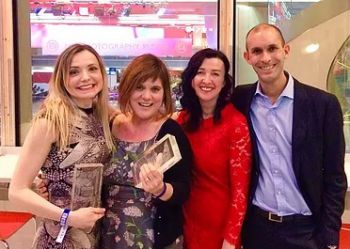 A radio play co-conceived by a consciousness expert at the University of Sussex has won the top award for radio drama in the country.
'The Sky is Wider' won the prestigious Best Single Drama award at the 2017 BBC Audio Drama Awards this week.
The play explores the ethical and emotional consequences of new ways of communicating with patients in vegetative and minimally conscious states, drawing on the expertise of Professor Anil Seth, co-Director of the Sackler Centre for Consciousness Science at Sussex.
Professor Seth acted as the scientific consultant on the script, working closely with writer Linda Marshall-Griffith and producer Nadia Molinari.
The three devised the idea at a Wellcome Trust 'Experimental Stories' workshop three years ago, in Cambridge.
The play also picked up Best Actress for Christine Bottomley's portrayal of the lead character Ella (beating Helen from BBC Radio 4's drama 'The Archers').
Professor Seth, based in the University's School of Engineering and Informatics, said: "I was extremely lucky to be paired with Linda and Nadia, and over two days the idea for 'The Sky is Wider' took shape - though it took much longer and many more conversations before the final script was ready, and the production strategy fully set.
"Many congratulations to Linda, Nadia and Christine - I just feel lucky to have been along for the ride."
The judges said: "We thought 'The Sky is Wider' was a perfect radio play the explored the neurology and ethics surrounding the treatment of a patient with minimal consciousness ... It felt an important piece and we were all moved by it ... A stunning achievement."
The play, which was broadcast on Radio 4 last July, was also selected as BBC Radio Pick of the Year in December and was shortlisted for the 2016 Prix Europa for radio drama.
Find out more about the science behind the play, listen to it and browse some photos from the award ceremony.