Law lecturer empowers young people to tackle corruption and promote sustainability
By: Jacqui Bealing
Last updated: Wednesday, 1 August 2018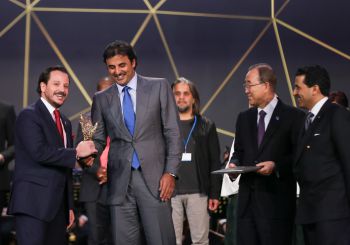 The way to tackle corruption at the top, says Dr Dimitris Ziouvas, is to start at the bottom.
Since 2013 Dr Ziouvas, a Reader in Criminal Law and Compliance at the University of Sussex, has been working with young people to raise awareness of how to challenge the underhand dealings of those in power.
Through creating the Eurasian Integrity Youth Academy (EURIA), a non-profit civil society youth network, he has helped to galvanise young people in his home country of Greece, and now also in other European countries, to take the small steps that can lead to culture change.
His work and initiative, which have drawn the attention of the European Union and the Council of Europe and have gained European research funding, have also now received an international anti-corruption award in support of the United Nations Office on Drugs on Crime for their high social impact.
"I am incredibly proud of this recognition," says Dr Ziouvas. "I came to Sussex because I wanted to share my passion for world-leading anti-corruption research. I have been inspired by the creativity of my colleagues, especially those affiliated with the Sussex Centre for the Study of Corruption."
Dr Ziouvas' interest in enhancing the social impact of anti-corruption research and education began during his professorial time teaching a course on anti-corruption and criminality at Panteion University of Athens as the Greek financial and social crisis was brewing. An active member of the United Nations Anti-Corruption Academic Initiative, he started delivering a United Nations Convention against Corruption Academic Course to his students by adopting the structure and content of the course to the specific national context.
Interest was so great that he soon had 150 students clamouring to take the course. From this he developed a Facebook group, Anti-Corruption Youth Greece, and then the youth academy (for those under the age of 40), which has grown to 1,300 members.
"It's the young people who are the victims," he points out. "Unemployment in Greece is now the worst in the Eurozone, with 58,3 per cent (2013) of those under 40 without jobs. The money doesn't flow where it's supposed to flow. People were frustrated because no one was listening to them. Politicians suspected of corruption were being elected and re-elected, and they had complete immunity."
Through self-funding, Dr Ziouvas and his students began street campaigns, holding public debates with high-level speakers from Greece's Hellenic Parliament, and training school children on the importance of accountability, integrity and transparency – the pillars of anti-corruption.
They also handed out more than 2,000 T-shirts and badges with anti-corruption messages, while his PhD students under his guidance have carried out research projects for the EU on how to strengthen awareness of anti-corruption and build public-private partnerships.
"Everything helps in spreading the word," he says. "This gives them a feeling that they can take their future in their own hands. It is giving them hope."
For Greece, the academy is calling for a change in the constitutional and criminal procedural law that gives immunity for politicians and members of the government suspected of grand corruption and accepting bribes. They also want to see a real change in the culture.
"People take it for granted that nothing can change," he says. "They say that this is the way you do business. But we want to be part of the politics and help shape anti-corruption policies. And we want to see our efforts as part of the global vision for sustainable development in societies and economies. This is about securing a better future for the next generation."
Through the Sheikh Tamim bin Hamad Al Thani Anti-Corruption Excellence Award 2016, which he received on 9 December 2016 personally from UN Secretary General Ban Ki-Moon and the Emir of Qatar, at a ceremony in Vienna, Dr Ziouvas intends to strengthen his expertise in Middle East compliance and governance law, expand the University of Sussex's international academic networks and further strengthen the high social impact of his research in the field of financial crime governance.
Dr Ziouvas, who is the deputy convener of Sussex's innovative Masters degree (LLM) in Corruption, Law and Governance, delivered in Doha, is also leading a new research and educational programme in Sports Integrity and Sustainability Governance in cooperation with the International Olympic Academy.
He says: "Education and research in sports ethics is an effective way to fight sports crime and promote the United Nations Sustainable Development Goals 2030. Only by fighting corruption can we achieve sustainable societies."