Sussex student wins national social work award
By: Lynsey Ford
Last updated: Friday, 15 June 2018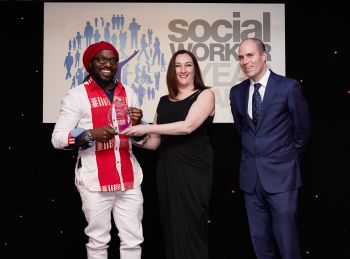 A University of Sussex social work student has received national recognition at the Social Worker of the Year Awards 2016 after showing outstanding potential during his studies.
Odi Oquosa was named winner of the Student Social Worker of the Year award during the national awards ceremony which took place last week (Friday 25 November) in London.
The mature student, who uses his own experience of overcoming a mental illness to help others, has been responsible for a number of ground-breaking community initiatives in the Brighton and Hove area. These include running a weekly music group in a local community hall for people in need of refuge and working with a national charity, the Afiya Trust, on the over representation of Black Minority and Ethnic (BME) men in mental health services.
His creativity, empathy and commitment impressed the judges, with one of his colleagues saying he "will be a true power within our profession; dedicated, creative, and will change people's lives".
Speaking just after he collected his award, Odi said: "I want to be an ambassador for social workers who unfortunately are so often shown in a negative light by the media – now is the time for us to fight for our profession.
"I also want to take this opportunity to thank my course tutor Dr Denise Turner, who helped make this achievement possible. She created a learning environment where I felt completely able to be myself: to share my past, my present, my philosophy, culture and experiences. She also raised my self-confidence and encouraged total self-awareness, an essential skill to have when you are going out and trying to solve difficult problems within families."
Dr Denise Turner, from the University of Sussex, said: "Odi is a unique person who has triumphed over the odds and is now using his experience to help others. As a person and professional he embodies social work values - and we are thrilled that he is already being nationally recognised for his contribution to our profession."
Elaine James, Service Manager for Adult Social Care at award supporter, Calderdale Council, presented Odi with his award on the night. She said: "Odi's achievements as a student are hugely impressive and he clearly has outstanding characteristics going forward as a social worker. The future looks very bright for him and he is an extremely deserved winner of this award."
Odi was presented with his award in front of an audience of 350 social workers and representatives of the profession. The Social Worker of the Year Awards were founded in 2006 by independent practitioner, Beverley Williams, with the aim of improving the understanding and reputation of the profession.
For more information about the MA in Social Work at the University of Sussex please visit here.