New play commemorating partition of India based on harrowing real-life stories
By: Lynsey Ford
Last updated: Friday, 30 September 2016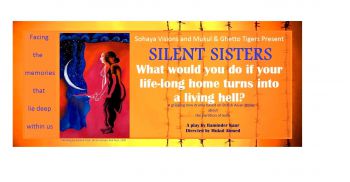 A play written by a University of Sussex academic who researches the India-Pakistan partition of 1947 is to premier in Crawley next week.
'Silent Sisters', which will be performed at The Hawth Theatre, in Crawley on Monday 3 October, is based on the real-life experiences of those who lived through the partition of the British Indian Empire almost 70 years ago.
Written by Raminder Kaur, Professor of Anthropology and Cultural Studies, the play is a tribute to the millions of people who were affected by the bloody events, which led the creation of India and Pakistan. The partition resulted in over 10 million people displaced, thousands of people abused, abducted, forcibly converted, and more than half a million Muslims, Sikhs and Hindus dead.
Based on interviews and workshops with the children of survivors now in Britain (the eldest aged 91), 'Silent Sisters' is a fictional story in which two women, Noor and Amrit, find themselves thrown together when communal violence is unleashed in 1947.
Professor Raminder Kaur, said: "In the play Noor and Amrit's relationship is a tense one that begins to show moments of affection based on the fact they are women who have had to go through several arduous trials. The insanity of the period is captured in moments of satire and the setting of the drama.
"The play is a tribute to all the millions of people who were affected by partition nearly 70 years ago, and to those who struggle with violence and displacement across the world today. There are about 65 million people who are forcibly displaced now, and the growth of right-wing reactions is fuelling the cycle of violence."
On the research process, Professor Kaur adds: "Even though partition was a momentous occasion there is a tendency to brush things under the carpet. Some stories were hard to relate by participants and there is a lot that remains unsaid and unknown - but all agreed that future generations must not forget this episode in history, and that racist and communalist surges need to be curbed."
The play is produced by Sohaya Visions and Mukul & Ghetto Tigers and is funded by the Arts Council and the University of Sussex's Asia Centre.
The 60 minute long performance, includes poetry, song, music and movement, and is suitable for those aged eight and above. There will also be an audience discussion after the performance with the cast and crew.
Tickets are free but booking is required - for further information about the performances please contact sohayavisions@gmail.com or sumanbhuchar@gmail.com or call the Hawth Box Office on 01293 553636.