How Leicester won the league – a psychological perspective
By: James Hakner
Last updated: Thursday, 12 May 2016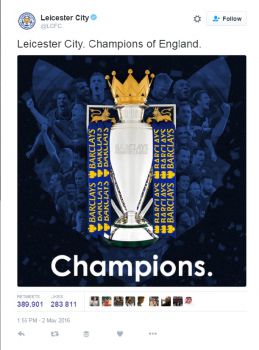 University of Sussex psychologist Will Thomas, who researches elite team performance, on the psychology of Leicester's Premier League title win.
"The most important ingredient is team spirit"
- Claudio Ranieri.
Leicester's story is one of the most, if not the most, remarkable in sporting history. At 5,000/1 to win the league at the start of the season, Elvis being found alive (2,000/1) and the Loch Ness monster being discovered (500/1) are among the things that bookies considered more likely to happen. Using some of the latest research in team psychology, I explain how such a long shot can transpire, but only if all the psychological pieces fall into place.
Team identity
In collaboration with my co-funders the Centre for Team Excellence and world leaders in group and identity processes, Prof Rupert Brown and Dr Vivian Vignoles, my own research has found that team identity predicts perceived and actual team performance. Using a unique sample of amateur and elite level teams including Olympic, military and Premier League teams, we also show there are potentially six psychological foundations – or what are termed identity motives – that can cause individuals to identify with a team. Leicester, knowingly or not, appears to have all six.
Distinctiveness motive – While managers like Van Gaal fret over their pass completion stats, the newly crowned champions play a fast paced counter-attacking football. Indeed, the Foxes have the worst pass completion rate in the league, but they're not afraid to play three misplaced passes if the fourth one leads to a goal. This distinctive style is part of their identity, which crucially informs how they play on the pitch.
"They have a real style to their play… nearly perfect counter-attacking football."
- Liverpool Manager Jurgen Klopp, describing Leicester's distinctive style of play.
Belonging motive – Players, especially in the Premier League, need to feel loved and accepted and view the team as inclusive. Given the alleged player revolt against Mourinho at Chelsea, it's easy to see how other premier league teams have failed to create an inclusive environment needed to build a strong team identity. The strong bonds between Leicester players may be forged during their Christmas night out dressed up as ninja turtles, or perhaps when boss Ranieri buys them all Pizza for getting a clean sheet. Whatever they are doing, it's certainly working.
"In all my career I don't think I have known a team as strong at being together."
– Claudio Ranieri.
Continuity motive – Although Ranieri came into the Leicester set-up at the start of the season, he noticed the style and strength of the team. Unlike other managers, he has persisted with most of the 1st team players and not tried to drastically alter or impose his philosophy onto the team (Van Gaal anyone?). Players also know that he will be there next season, which can't be said for either of the Manchester clubs. This continuity from past to present to future has enabled the Foxes to build on the legacy of the club, another cornerstone of a strong team identity.
"We just want to write our own legacy and put our own names in the history books"
- Wes Morgan, Leicester captain.
Meaning motive – Players need to feel they have an important purpose and role in the team. Ranieri has dealt with benching players brilliantly. Leonardo Ulloa was a big deal when he signed from Brighton for £8million in 2013. But with the form of Vardy and Mahrez, the 6ft 3in Argentinian has been left on the bench for most of the season. Crucially though, he wasn't left out in the cold. Instead, Ranieri made sure that Ulloa understood he still had an important role to play in team. His recent goals, in Vardy's absence through suspension, have undeniably had a big impact on Leicester title tilt.
"I have more important contributions for the team. Always I am ready"
- Leonardo Ulloa, talking about how he has an important role to play in the team.
Efficacy motive – Our research has shown that if members view elite teams as capable of achieving their objectives, they are more likely to identify with the team. What was Leicester's objective? To avoid relegation. Having seemingly achieved their goal within the first few months, Leicester played with freedom and expression not seen by other teams. Take Chelsea for example, once the players realised the title was out of reach (their objective before the start of the season), they have appeared to be playing for themselves, rather than the team.
"Claudio, this is a very important year for the club. It is very important for us to stay in the Premier League. We have to stay safe."
-Leicester Chairman, Vichai Srivaddhanaprabha, speaking to Ranieri at the start of the season.
Esteem motive – The final identity motive relates to esteem. If team members feel positive and proud to be part the team, they are more likely to identify with it. This is displayed by the element of fun Ranieri and his team have brought to the premier league. Their joker in chief, Christian Fuchs, is fast becoming a cult figure amongst Leicester fans due to his social media antics. One of his stunts included playing egg roulette with Jamie Vardy. This sense of fun and feel good factor epitomises a healthy and enjoyable team environment and underpins a strong team identity.
"We're having fun playing every game"
- Christian Fuchs.
Together these psychological foundations create something special
There is no doubt that Leicester have some good players, but looking at the whole squad and comparing it to the so-called "top" clubs, it easy to see why they were 5,000/1 long shots to lift the title. Yet, the Foxes' remarkable triumph demonstrates how team psychology, and in particular a strong team identity, can radically transform collection of players into something far greater than the sum of its parts. Although, as a Spurs fan, I can't help but wish they had chosen a different year.
By Will Thomas, PhD Researcher on elite team performance.
University of Sussex
Follow me on twitter: @Will_ebt