Droughts hit cereal crops harder since 1980s, study shows
By: Jacqui Bealing
Last updated: Wednesday, 6 January 2016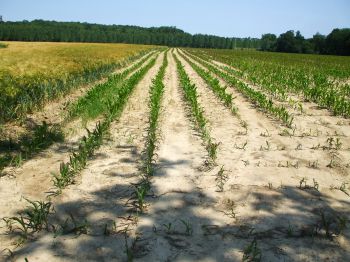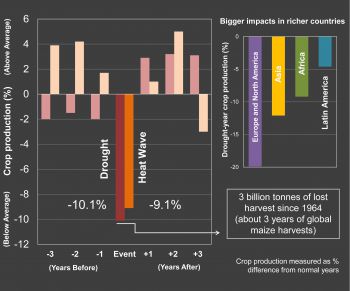 Drought and extreme heat events in Europe slashed cereal harvests in recent decades by up to 20 per cent according to new research by the University of Sussex and Canadian academics.
At a time when global warming is projected to produce more extreme weather, the study, published in Nature, provides the most comprehensive look yet at the influence of such events on crop area, yields and production around the world.
Sussex geographer Dr Pedram Rowhani, together with colleagues at McGill University and the University of British Columbia (UBC) in Canada, analysed national production data from the United Nation's Food and Agriculture Organization for 16 cereals in 177 countries. They also examined 2,800 international weather disasters from 1964 to 2007.
They found that, from 1985 to 2007, droughts caused cereal production losses averaging 13.7%, up from 6.7% for the period from 1964 to 1984.
Production levels in the more technically advanced agricultural systems of North America, Europe and Australasia dropped by an average of 19.9% because of droughts – roughly double the global average. However, extreme cold events and floods had no significant impact on crop production.
Dr Rowhani said: "This study shows for the first time how droughts and heatwaves significantly damage crop production globally, and how the losses have varied across different regions and throughout time. The frequency and severity of these disasters is expected to increase in many regions of the world and it is crucial to adapt our farming practices to better resist such extreme weather events if we want to ensure food security."
Senior author Navin Ramankutty, professor of global food security and sustainability at UBC's Liu Institute for Global Issues and Institute for Resources, Environment and Sustainability, said the findings may help guide agricultural priorities and adaptation efforts, to better protect the most vulnerable farming systems and the populations that depend on them.
First author Corey Lesk, a recent graduate of McGill's Department of Geography, said the greater production impacts from drought in developed countries may reflect differences in scale and methods of farming in wealthier countries, compared with the developing world.
One bright note does emerge from the analysis: the extreme weather events had no significant lasting impact on agricultural production in the years following the disasters.
The researchers also included extreme cold events and floods in their analysis, but found no significant impact on crop production. One possible explanation is that floods tend to occur in the spring in temperate regions, and susceptibility to cold weather in most agricultural regions is outside the growing season - such as the recent floods in Scotlande and Cumbria. So many of the flood and extreme cold disasters may have had little effect on harvest levels.
Notes for editors
The research was supported by a Discovery Grant from the Natural Sciences and Engineering Research Council of Canada.
"Influence of extreme weather disasters on global crop production," Corey Lesk, Pedram Rowhani, and Navin Ramankutty. Nature, Jan. 7, 2016. DOI:
University of Sussex Media Relations: Jacqui Bealing and James Hakner. 01273 678888, press@sussex.ac.uk
@SussexUniPress
www.sussex.ac.uk