Alumni news
"As the need continues to grow, alumni support is invaluable. Thank you."
By: Emma Wigmore
Last updated: Thursday, 21 May 2020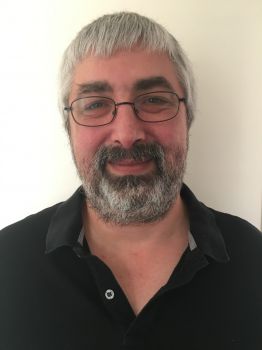 Jon Dale, Financial Assistance Officer in the Student Funding Team at Sussex, explains how alumni donations directly support students who find themselves in unexpected hardship
I've worked as Financial Assistance Officer in the Student Funding Team at Sussex since 2011. To begin with, I dealt solely with hardship funding, but over the years my remit has expanded to include bursaries and financial advice. As a team, we have become a much more rounded advice service over the last eight years. It can be upsetting working with students who find themselves in particularly challenging situations, but we do everything that we possibly can to help. Any time a student has money concerns they can come to us.
Since the start of the coronavirus pandemic, applications for help have increased by between 50%-60% and are now very much targeted towards hardship. Students are particularly worried about paying their rent. Whilst Sussex allowed students who moved out of University-managed accommodation because of the pandemic to end their contracts early, private sector agencies haven't done. Many students are being forced to pay rent in Brighton even though they've gone home.
The main issue that we're facing at the moment is that students can't find part-time work. Currently, approximately 40% of our students come from low-income households, so they don't have the access to additional support from their families. Given the number of parents who have lost jobs or been furloughed during the current crisis, this is also likely to cause difficulties for the other 60% of our students. Until students who need to can get back to part-time working, our hardship awards are going to play an ever more critical role.
Not only have hardship applications increased, the amount of money awarded has also gone up. The average award that we make has increased in value by 15% since the start of the pandemic and this trend is set to continue. Some of our students have lost parents, family or friends to the virus, and on top of dealing with that they are under pressure to pay rent, and are struggling to find money for food and other day-to-day expenses.
We have been able to provide additional help this year thanks to funding allocated to us by the Sussex Fund, which is supported by generous donations from our alumni community. The University makes considerable annual provision for Widening Participation and student support, but we are seeing an unprecedented level of need and we are likely to receive more applications than we have resources.
Applications for hardship funding are going to increase massively, mainly because the majority of students won't be able to find seasonal work as a result of the lockdown and social distancing measures. It is likely that we will need to support a lot more of them over the summer, which is going to be a stretch. Our Vice-Chancellor, Adam Tickell, has very kindly chosen to forego 10% of his salary (which is being matched by the University), specifically to help us make these additional awards.
I am constantly amazed by how generous our alumni are. We have many students who are experiencing dire financial difficulties, and the University has significantly increased its support towards student hardship since the crisis began. As the need continues to grow, alumni support is invaluable. Every pound that we receive will help a student who is in urgent need. A big thank you to all the alumni who support the Sussex Fund.
No student should be forced to give up their education, be homeless or go hungry, so please show your support by making a donation through our secure online giving webpage.
Please give whatever you can – your kindness and generosity will make a very real difference to Sussex students who are struggling to afford even basic essentials in these challenging times. Thank you.