Alumni news
Successful Roche Diagnostics Mentoring Scheme to run for a third year
By: Emma Wigmore
Last updated: Tuesday, 7 November 2023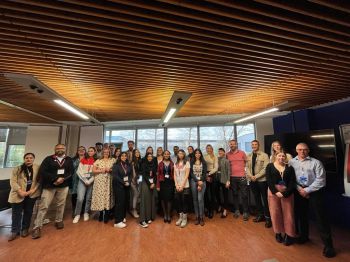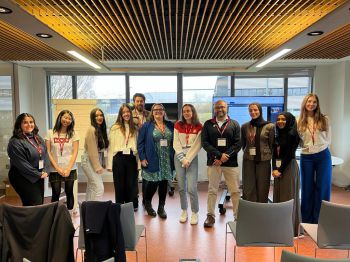 Leading medical diagnostics company, Roche Diagnostics UK originally approached Sussex with a proposal to establish a mentoring scheme for students during the Covid-19 pandemic. Their idea was to set up a programme to help students through university as well as during the transition into their working career. Now about to enter its third year, the initiative has already proved to be a resounding success.
Each year, ten final year Life Sciences students from underrepresented backgrounds, (for example, socioeconomically disadvantaged; a minority ethnic group; disabled; female; or a part of the LGBTQ+ community) are given the opportunity to be mentored by a Roche employee based locally in Burgess Hill.
Through the programme, mentors and mentees are able to share their experiences (both personal and professional) in an informal and supportive way, with the aim of nurturing the mentees through their time at Sussex and onwards to make a successful transition into working life.
Notably, the application process for students is similar to when applying for a job and was designed specifically to allow students to gain experience and practice in job applications, whilst also providing information to help shape a relationship with their individual mentors.
The programme includes six months of both face-to-face and virtual mentoring, a visit to the UK head office of Roche, an interactive 'Experience Day' workshop with the Roche Early Careers team and networking opportunities with other programme participants.
Earlier this year, Roche Diagnostics UK hosted mentors, mentees and a number of Sussex staff at a celebratory event at their Burgess Hill offices to mark the success of the initiative.
Dr Zahid Pranjol, who co-ordinates the Roche University Mentoring Scheme at Sussex, spoke emphatically about the programme, saying:
"It was heartening to witness how positively impacted our students were by this experience, and their testimonials, shared during the event, truly reflected their growth and appreciation."
Student mentees also acknowledged the immense personal and professional benefits that the Scheme had brought them, with one saying that it had:
"… truly impacted my academic journey and gave me skills that I will use in my professional life."
Whilst another student commented:
"The programme was a great experience. My mentor was always kind and attentive, sharing her knowledge with me in a lovely way. I was really suffering with imposter syndrome at this point in my university journey but my mentor was always there to support me, increasing my range of skills along with my confidence, while also being empathetic."
The Roche University Mentoring Scheme has proved to be a valuable platform for our students through which they can gain insights, develop skills and foster meaningful connections in industry, and Sussex is wholeheartedly committed to continuing and strengthening this partnership going forward.
To further support students at Sussex, Roche made a very generous donation to the Sussex Fund. The Fund helps students when they most need it, often at a time when they are vulnerable and likely to drop out of university due to extreme pressures. Roche's kind donation will help students facing financial hardship, or those who need to access mental health or wellbeing services.
If you would like to support students at Sussex, please contact Robert Yates.
And, if you're a member of the Sussex alumni community and would like to mentor students and/or recent graduates, do sign up to Sussex Connect and select your willing to help preferences accordingly.